Observing the unwatchable through acceleration logging of animal behavior
Animal Biotelemetry
2013
1:20
Received: 23 July 2013
Accepted: 7 October 2013
Published: 10 December 2013
Abstract
Behavior is an important mechanism of evolution and it is paid for through energy expenditure. Nevertheless, field biologists can rarely observe animals for more than a fraction of their daily activities and attempts to quantify behavior for modeling ecological processes often exclude cryptic yet important behavioral events. Over the past few years, an explosion of research on remote monitoring of animal behavior using acceleration sensors has smashed the decades-old limits of observational studies. Animal-attached accelerometers measure the change in velocity of the body over time and can quantify fine-scale movements and body postures unlimited by visibility, observer bias, or the scale of space use. Pioneered more than a decade ago, application of accelerometers as a remote monitoring tool has recently surged thanks to the development of more accessible hardware and software. It has been applied to more than 120 species of animals to date. Accelerometer measurements are typically collected in three dimensions of movement at very high resolution (>10 Hz), and have so far been applied towards two main objectives. First, the patterns of accelerometer waveforms can be used to deduce specific behaviors through animal movement and body posture. Second, the variation in accelerometer waveform measurements has been shown to correlate with energy expenditure, opening up a suite of scientific questions in species notoriously difficult to observe in the wild. To date, studies of wild aquatic species outnumber wild terrestrial species and analyses of social behaviors are particularly few in number. Researchers of domestic and captive species also tend to report methodology more thoroughly than those studying species in the wild. There are substantial challenges to getting the most out of accelerometers, including validation, calibration, and the management and analysis of large quantities of data. In this review, we illustrate how accelerometers work, provide an overview of the ecological questions that have employed accelerometry, and highlight the emerging best practices for data acquisition and analysis. This tool offers a level of detail in behavioral studies of free-ranging wild animals that has previously been impossible to achieve and, across scientific disciplines, it improves understanding of the role of behavioral mechanisms in ecological and evolutionary processes.
Abstract
Resumen
El comportamiento es un mecanismo importante de la evolución y que se paga a través del gasto de energía. Sin embargo, los biólogos de campo raramente observan los animales durante más de una fracción de sus actividades y los intentos de cuantificar el comportamiento para el modelado de los procesos ecológicos a menudo excluyen eventos crípticos pero importantes. En los últimos años se produjeron avances importantes en el monitoreo remoto del comportamiento de los animales, utilizando sensores de telemétro de aceleración (acelerómetros) que empujan los límites tradicionales de los estudios observacionales. Acelerómetros unidos a los animales miden el cambio de la velocidad del cuerpo en el tiempo y pueden cuantificar los movimientos a escala fina y posturas corporales ilimitadas por la visibilidad, el sesgo del observador, o la escala de la utilización del espacio. Como pionero hace más de una década, la aplicación de los acelerómetros como una herramienta de monitoreo remoto ha aumentado recientemente debido al desarrollo de hardware y software más accesibles. Se ha aplicado a más de 120 especies de animales hasta hoy. Medidas de los acelerómetros se recogen típicamente en tres dimensiones de movimiento a muy alta resolución (>10 Hz), y hasta ahora se han aplicado hacia dos objetivos principales. Primero, los patrones de las formas de los acelerómetros de onda se pueden utilizar para deducir comportamientos específicos a través de movimiento de los animales y la postura corporal. Segundo, se ha demonstrado que la variación en las medidas de forma de los acelerómetros de onda se ha demostrado que se correlaciona con el gasto de energía, abriendo una serie de preguntas de carácter científico sobre especies muy difíciles de observar en la naturaleza. Hasta la fecha, los estudios de las especies acuáticas silvestres superan a las especies terrestres silvestres, y los análisis de los comportamientos sociales son muy pocos en número. Los investigadores de las especies domésticas y en cautiverio tienden a reportar metodología más completa que los que estudian las especies silvestres. Hay retos importantes para conseguir el máximo rendimiento de los acelerómetros, incluyendo la validación, calibración y gestión y análisis de grandes cantidades de datos. En esta revisión se ilustra cómo funciona el acelerómetro, se proporciona una visión general de las investigaciones ecológicas que han empleado los acelerómetros y se destacan las mejores prácticas emergentes para la adquisición y análisis de datos. Esta herramienta ofrece un nivel de detalle en los estudios de comportamiento de los animales salvajes que han sido hasta ahora imposibles de alcanzar y, en todas las disciplinas científicas, que mejora la comprensión del papel de los mecanismos de comportamiento de los procesos ecológicos y evolutivos.
Palabras claves
Acelerómetro, actividad, bio-registro, comportamiento animal, gasto energético, etograma, navegación a estima, observación a distancia, telemetría.
Keywords
Accelerometer
Activity
Animal behavior
Bio-logging
Dead reckoning
Energy expenditure
Ethogram
Remote observation
Telemetry
Review
"Man goes to nature to learn what nature is, but, in so doing, he introduces possibilities of distortion through his own presence." – T.C. Schneirla (p. 1022, [1]).
Naturalists have long been aware that their presence can affect animal behavior [1, 2]. Direct observation presents obvious difficulties when animals perceive humans as predators [3] or when they are naturally secretive and elusive [4, 5]. Habituating individuals to an observer is sometimes possible but it is labor-intensive, and can require long-term study [6, 7]. Furthermore, though the subjects under study may be habituated, human presence can still affect their behavioral interactions with other non-habituated predator, prey or competitor species [8]. The observer is rarely undetectable and even animals that do not appear to react to human presence may still change their behavior in subtle ways [9, 10]. Direct observations are also biased by our own physical limitations [11–13] and tendencies to attend to some events and subjects more than others [14].
The field of biotelemetry grew out of the need to locate animals at will and observe and record their habits despite their abilities to travel rapidly and widely in inclement weather, underwater, or at night [
12
,
13
,
15
]. Locating animals in space has progressed from manual tracking of animal-borne radio- or acoustic signals to automated depth and geomagnetic loggers and satellite-based positioning systems that practically eliminate the observer effect and can now provide precise worldwide locations with few temporal or spatial constraints [
11
,
16
]. Nevertheless, a record of animal locations or a depth profile tells where the animal was and how long it stayed there, but the behavioral context is absent and must either be inferred or demands a return to direct observation methods [
17
]. These issues underscore the need for remote measurement of animal behavior to reduce or eliminate the potential effects of observer presence while maintaining a high level of detail in data recording that is comparable to direct observation [
18
]. Over the past few years, there has been an explosion of research on remote monitoring of animal behavior using measurements of acceleration (Figure
1
) [
19
,
20
]. This tool, the accelerometer, has repeatedly circumvented many of the age-old limits of direct observation of animals in the field.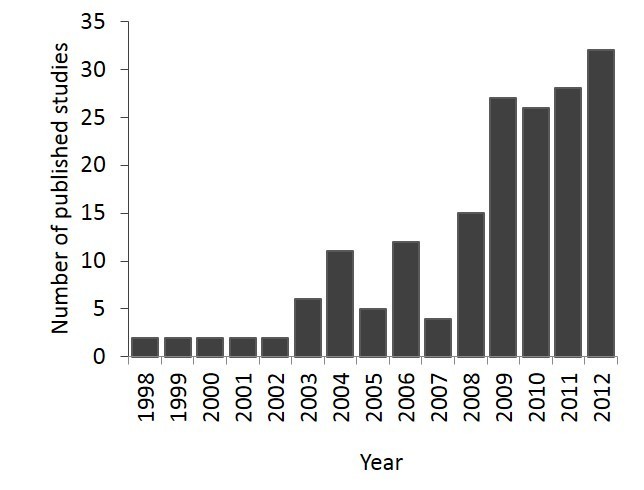 Figure
2
provides a basic explanation of how an accelerometer works [
21
]. An accelerometer is a spring-like piezoelectric sensor. When deformed, the sensor generates a wave-like voltage signal that is proportional to the acceleration (change in velocity) it experiences [
22
]. The sensor is deformed both by gravitational acceleration as well as inertial acceleration due to movement. From one to three of these sensors are aligned orthogonally to one another and affixed to an animal so that each sensor measures acceleration in a single plane, or dimension, of movement (surge, heave, and sway (Figure
2
)). All three sensors collecting simultaneous measurements can represent three-dimensional movement realistically [
20
,
23
]. The sensors can be user-programmed to sample acceleration at frequencies ranging from 0.5 to 10,000 Hz, and can be set to record continuously or in repeated bursts (e.g., every 2 min). The voltage signals, also known as raw accelerometer output, may be used in their raw state, or converted to actual acceleration if the unit is carefully calibrated (measured in
g
; 1 
g
 = 9.8 m/s
2
). Under static circumstances, such as during rest or after death, the accelerometer signal only represents the gravitational force acting on the sensors. When an animal is moving, sensor output represents acceleration due to gravity combined with the inertial acceleration generated by movement [
23
]. Accelerometers typically incorporate a microprocessor and digital memory to store logged measurements until the instrument is retrieved [
24
].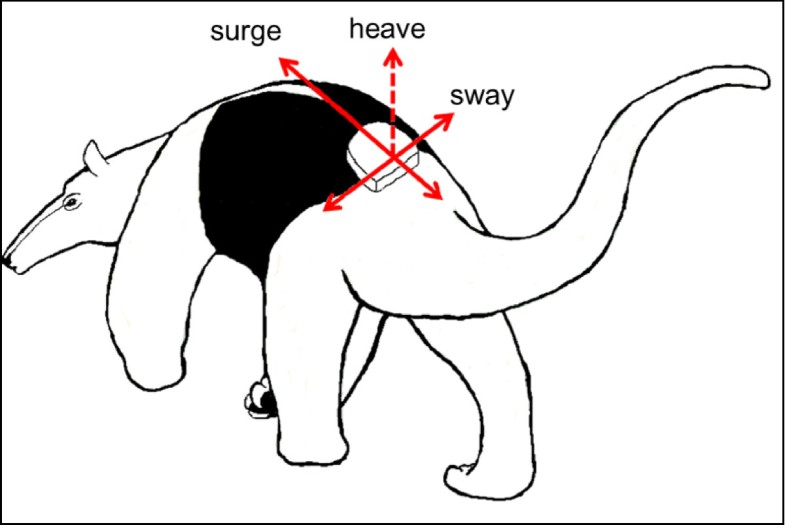 Measurement of acceleration is a well-established research tool in biomechanics [25, 26] and exercise science [27, 28]. The first (wired) accelerometers were used to examine the biomechanics of movement in humans [29] and fish [30] and then to ascertain the correlation between bodily acceleration and oxygen consumption in human subjects [28]. The introduction of air-bag technology in passenger vehicles lead to the development of relatively inexpensive accelerometers that use very little power [31]. These were quickly adopted for studies outside the laboratory environment, because they are "small, low-cost instruments that provide quantitative [and objective] measurements [of activity]" p. 679, [32]. Animal studies using these modern, truly portable acceleration sensors did not appear in the literature until the late 1990s [33, 34]. Initially, animal studies were confined to captive and domesticated species, as well as aquatic taxa, for whom few other behavioral observation methods were possible [12, 35, 36]. Since then, the ongoing reduction in the size of computer microprocessors and improvements in battery size, weight, and longevity combined with these small solid-state acceleration sensors have resulted in a modern accelerometer that can weigh 0.7 g (without a battery) and measure 9.5 × 15 × 4 mm (available from: http://www.technosmart.eu/axy.php). Modern accelerometers also consume very little digital memory with each measurement [37], so data collection and data storage on-board the instrument itself is possible for up to several months or years, depending on the sampling schedule. Accelerometers that simply log their data must be retrieved after the sampling period, as with other types of telemetric data loggers. However, some accelerometers incorporate ultra-high frequency data download technology in similar frequency bandwidths as those used in cellular phones [38]. This feature makes it possible to download the data from the accelerometer from a reasonable distance (up to 500 m, personal observation) even if the device and its bearer are not visible or the instrument cannot be retrieved because it has been discarded in a tree cavity, for example [21]. Radio or acoustic beacons are commonly used on loggers that must be retrieved [21, 24].
Movement is the fundamental behavioral response to both internal motivations and the external environment [13, 17]. Using accelerometers, biologists can measure the movement behavior of wild animals over biologically and ecologically significant events and periods, practically unlimited by visibility, observer bias, or geographic scale. Accelerometers can be deployed with other sensors, such as those recording location (GPS, acoustic telemetry, water depth), physiological measurements (heart rate, body temperature), and environmental variables like air temperature, light levels and magnetic heading [24, 39, 40]. Particularly when combined with other instruments, measurements of acceleration can provide a wide range of detailed information on the environmental context of animal behavior and physiology that can exceed the descriptive abilities of the human observer and deepen our knowledge even for well-known species such as domestic animals. Here, we review how accelerometers have been used to date in the study of animal behavior, including the taxonomic and research trends in the literature and we illustrate the type of data produced by this technology from instruments deployed on a variety of species. Further, we provide a summary of the currently available techniques for data calibration, management and analysis, and suggest key directions for future research.
Methods
We accessed BIOSIS® Previews and ISI Web of Knowledge® online and ran searches for any publication containing references to accelerometry in the title, abstract or keywords. We limited our analysis to primary research published in peer-reviewed journals and book chapters through December 2012. From those, we selected studies utilizing animal-borne sensors applied to non-human species. We assessed the resulting works for the following: i) study purpose; ii) species and whether subjects were captive/domestic or free-ranging, and aquatic or terrestrial; iii) number of acceleration axes; iv) sampling frequency utilized; v) the behavioral resolution of the resulting measurements; vi) the parameters of the accelerometer data used for analysis; vii) whether or not behavioral classification accuracy was reported (if pertinent); and viii) whether accelerometry was combined with other telemetry sensors. Results are presented as percentages; not all percentages will sum to 100 because not all categories were mutually exclusive.
Results
We discovered 176 accelerometry studies and counted 125 animal species that have borne accelerometers (Additional file
1
). Studies were relatively evenly split between aquatic (48.3%) and terrestrial (52.8%) habitats and between free-ranging wild animals (50%) and domesticated/captive wild animals (33/27.3%), but there were biases among taxa for these categories (Figures
3
and
4
). Mammals represented 45.6% of all study species with domestic cattle and Pinnipeds being the most-studied among the mammals (14% of studies and 18% of species, respectively). Birds comprised 33.6% of all study species and 38% of avian species were either Sphenisciformes or Suliformes. Fishes included 11.2% of species and half of all fish species were Elasmobranch sharks. Eight reptile species, five of them Chelonians, comprised 6.4% of study subjects. Giant cuttlefish (
Sepia apama
), Humboldt squid (
Dosidicus gigas
), King scallop (
Pecten maximus
) and Cane toad (
Bufo marinus
) were the four study species remaining outside of these four taxon categories.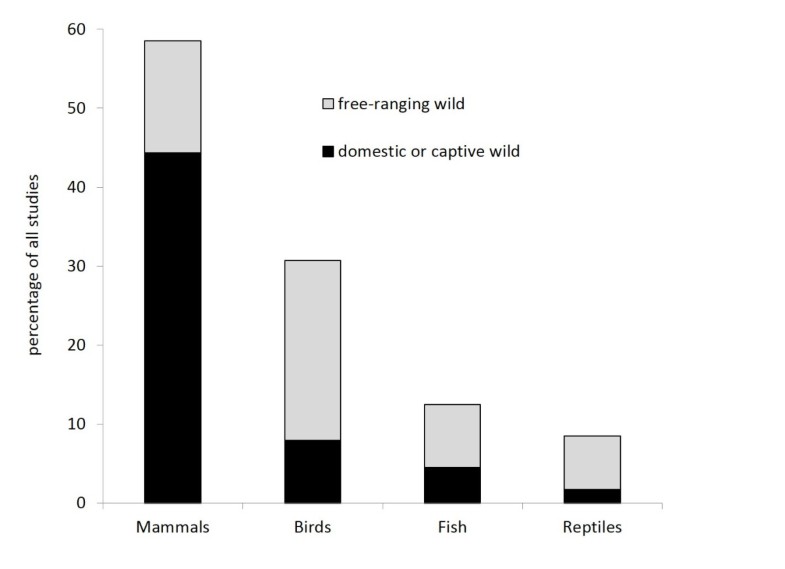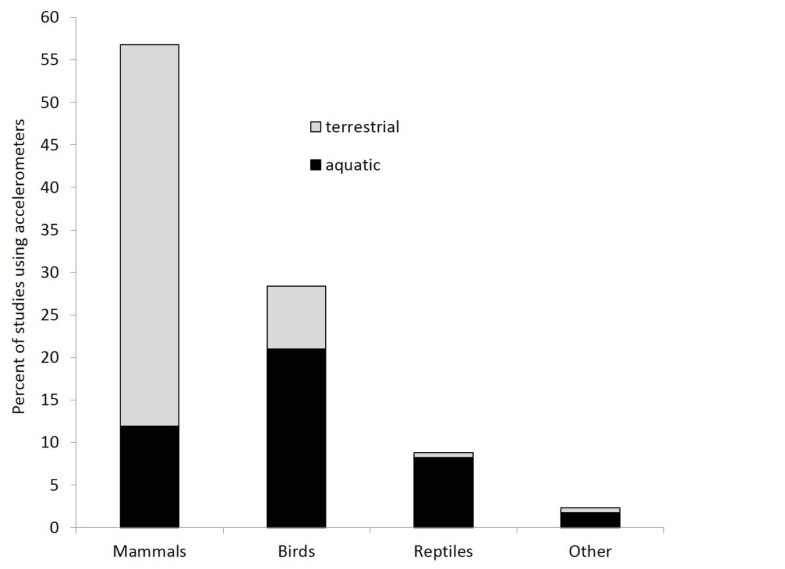 More than half of all studies (62.3%) utilized 3-axis accelerometers; 90.3% of studies utilized either 2- or 3-axis accelerometers. Sampling frequencies ranged from 0.5 Hz to 10,000 Hz, with 60% of studies using one of the following most common sampling frequencies of 8, 10, 16, 32, 64 or 100 Hz. Forty-eight percent of studies collected acceleration data continuously and 13.3% collected data in discrete bursts or intervals; 38.7% of studies did not clearly report their collection method. Sixty-three percent of studies combined an accelerometer with other telemetric instruments; however, free-ranging wild species were 3 times more likely than captive wild species and 6 times more likely than domesticated species to be outfitted with telemetry devices that contained multiple sensors. The most common remote sensors used in tandem with accelerometers measured depth (35.6% of studies), travel speed (16% of studies) and temperature (14.7% of studies).
Conclusions and future directions
Accelerometry is a tool for fine-scale observations of behavior, unlimited by animal visibility, terrain, climate, observer bias or the scale of space use. To date, accelerometer tags have been applied to more than 120 species in diverse taxa in order to deduce body postures, behaviors and energetics in the field. Accelerometry also shows potential as a method to 'dead reckon' an animal's exact travel path when applied in tandem with satellite-based location systems. In all of the research described, accelerometry provided fine-scale behavioral measurements that, prior to its development, were rarely attainable outside of the laboratory setting and without the influence of the researchers' presence.
The literature shows several taxonomic biases in what research questions have been examined and how the results have been reported. Studies of wild aquatic species outnumber studies of wild terrestrial species. Research on aquatic animals (whether captive or wild) has focused on describing the biomechanics and energetic consequences of behavior, while in terrestrial systems the focus was on determining activity budgets. Both at sea and on land, feeding, locomotion, and activity/rest were the behavior categories most frequently analyzed; social behaviors (parental care, territorial, mating and courtship behaviors, and antagonistic exchanges) are nearly absent from both ethograms and energy budgets. Researchers of domestic and captive species tended to report analysis methods more thoroughly than those studying species in the wild.
There are substantial challenges to getting the most out of accelerometer data, including device retrieval and data calibration, validation, management and analysis. Numerous techniques for addressing these challenges have already been published in both human and animal studies and new methods continue to develop and are awaiting broad application to the field. With more thorough reporting of methodology and habitual use of web-based data repositories, universal practices are bound to emerge as hardware and software continues to mature and become more broadly available across research groups.
Future directions
The rapid development of this tool in the field, thus far, leads us to anticipate two promising breakthrough applications that will open even more doors in behavioral research. The first is the incorporation of inter-individual telemeters in the study of social behavior. Device-to-device data sharing and proximity sensors exist in the consumer electronics industry and have already been incorporated into acoustic telemeters [86]. Most modern telemetry tags have multiple data channels and could be modified to include these features. Accelerometer tags that have the ability to record proximity, identity and even behavior of tagged individuals in contact with the animal that bears the primary tag, would reduce the burden of extensive direct observation, yet permit scientists to directly question how individuals interact and how those interactions shape behavior across a large number of social and territorial species. Secondly, we recommend that researchers entering the field of wildlife telemetry look to explicitly link energetic expenditure in wild animals with behavioral responses to human-altered habitats [163]. Whether considering climate change, resource competition or anti-predator defenses, the potential toll on fitness should manifest in energetic expenditure and allow a window onto the longer-term consequences of our impacts on other long-lived species. Accelerometry offers a level of detail in behavioral studies of free-ranging wild animals that has previously been impossible to achieve and it has proven itself in furthering our understanding of the role of behavioral mechanisms in ecological and evolutionary processes.
Author's contributions
DB collected the articles used in this review, carried out the data analysis, and drafted the manuscript and Figures 1 to 5. RK initially conceived of the idea to write a review of the subject and heavily influenced the organization of the information. MW, RW, and APK made critical revisions to drafts for comprehensiveness and presentation of the information. All authors read and approved the final manuscript.
Declarations
Acknowledgements
This review was supported by the New York State Museum; the Max Planck Institute for Ornithology; Swansea University; an NSF predoctoral fellowship (DD Brown) and the Biotelemetry Laboratory at the University of California, Davis. We thank Sebastián Cruz for contributing Figure 6 and Lewis Halsey for permission to reuse his figure (Figure 7) as well as helpful comments on an earlier draft.
Authors' Affiliations
(1)
Department of Biology, Western Kentucky University, Bowling Green, USA
(2)
North Carolina Museum of Natural Sciences, Raleigh, USA
(3)
Fisheries, Wildlife & Conservation, North Carolina State University, Raleigh, USA
(4)
Smithsonian Tropical Research Institute, Balboa, República de Panamá
(5)
Max Planck Institute for Ornithology, Vogelwarte Radolfzell, Radolfzell, Germany
(6)
Chair of Ornithology, Konstanz University, Constance, Germany
(7)
Biosciences, College of Science, Swansea University, Swansea, UK
(8)
Department of Wildlife, Fish, & Conservation Biology, 1334 Academic Surge, University of California, Davis, USA
Copyright
© Brown et al.; licensee BioMed Central Ltd. 2013
This article is published under license to BioMed Central Ltd. This is an open access article distributed under the terms of the Creative Commons Attribution License (http://creativecommons.org/licenses/by/2.0), which permits unrestricted use, distribution, and reproduction in any medium, provided the original work is properly cited.