An open Web-based system for the analysis and sharing of animal tracking data
Animal Biotelemetry
2015
3:1
Received: 22 May 2014
Accepted: 22 December 2014
Published: 29 January 2015
Abstract
Background
Improvements in telemetry technology are allowing us to monitor animal movements with increasing accuracy, precision and frequency. The increased complexity of the data collections, however, demands additional software and programming skills to process, store and disseminate the datasets. Recent focus on data availability has also heightened the need for sustainable data management solutions to ensure data integrity and provide longer term access. In the last ten years, a number of online facilities have been developed for the archiving, processing and sharing of telemetry data. These facilities offer secure storage, multi-user support and analysis tools and are a step along the way to improving data access, long-term data preservation and science communication. While these software platforms promote data sharing, access to the majority of the data and to the software behind these systems remains restricted. In this paper, we present a comprehensive, highly accessible and fully transparent software facility for animal movement data.
Results
The online system we developed (http://oztrack.org) offers a set of robust, up-to-date and accessible tools for managing, processing, visualising and analysing animal location data and linking these outputs with environmental datasets. As OzTrack uses exclusively free and open-source software, and the source code is available online, the system promotes open access not only to data but also to the tools and software underpinning the system.
Conclusions
We outline the capabilities and limitations of the infrastructure design and discuss the uptake of this platform by the Australasian biotelemetry community. We discuss whether an open approach to analysis tools and software encourages a more open approach to sharing data, information and knowledge. Finally, we discuss why a free and open approach enhances longer term sustainability and enables data storage facilities to evolve in parallel with the telemetry devices themselves.
Keywords
Electronic tagging
Electronic tags
Environmental data
GPS
Information management
Kalman filter
Movement ecology
Open access
OzTrack
PostgreSQL
PostGIS
R
Relational database
Tracking software
VHF
Wildlife monitoring
Background
Animal biotelemetry is a dynamic and rapidly evolving field of ecology. The number of publications featuring the use of telemetric devices to provide fundamental insights into a species' ecology has increased steadily over the past 30 years [1,2]. Technological advancement during this time has improved positional accuracy and is allowing the collection of more frequent location fixes over longer time periods [3,4]. Furthermore, tag size and weight have substantially reduced [5], as has unit cost [6], broadening the spectrum of species and life stages that can be studied. These developments in tracking technology and data acquisition have reduced the effort required to gather high-quality animal location data, providing researchers with an opportunity to build a coherent picture of how animals behave within their natural environment.
The relative ease and low cost by which temporally dense sets of animal locations can now be collected is increasing the volume of data collected and thus making effective management of the data challenging. Telemetry devices now routinely generate datasets that are larger than off-the-shelf software tools or spreadsheet applications can handle [7,8]. While dedicated, proprietary software platforms for processing these tracking data are available directly from the tag manufacturers, many large-scale and long-term studies utilise tags sourced from multiple manufacturers (e.g. [9,10]). In this scenario, a number of independent applications may be required; these include software tools designed for spatial data management and visualisation, as well as tools to filter and analyse spatiotemporal datasets. Typically, this requires data replication and export/import procedures across multiple software applications, which can be time-consuming and prone to error and duplication [11].
To ensure data persistence and to facilitate comparative studies across species and localities, the secure, consistent and efficient management of data is essential. If raw data are stored locally in personal databases, they are at risk of being lost or discarded due to disk failure or the data owner changing offices or careers. As data are collected as a result of disturbing animals, and many programs are funded by public money, there is a responsibility for the researcher to provide public access to their data once funding and publishing obligations have been met [12,13]. Data publishing is already a high priority in many fields, and many research journals and funding bodies now require that data supporting the results of studies are archived in an appropriate public archive which guarantees their re-use and preservation [14].
While some researchers may be unwilling to transfer their datasets into an online data repository (e.g. for fear of others misusing their data or using it without proper acknowledgement [15]), data management and dissemination through the Internet offers some clear advantages. For example, ongoing telemetric studies may require updating on a regular basis with new data and recent deployments [16], and project collaborators may want to be kept informed on the study's progress and the current whereabouts of tagged animals. The data may be useful for educational or public outreach purposes, which can increase the profile of the research through mass media and articles in national and international news outlets [17]. Increased data transparency may also stimulate collaboration, through the sharing of data between research groups and specialists in the same or related fields. This increased synergy may reduce the need to collect further or new data and can lead to academic as well as financial gains [14,18]. While a number of groups have succeeded in developing their own infrastructure for this purpose (e.g. Whalenet [19], the Narragansett Bay Coyote Study [20], the Information System for the Analysis and Management of Ungulate Data [21]), developing such infrastructure requires considerable time and resources, including collaborative input from information technology (IT) and e-Science experts.
In recognition of these challenges, some wildlife biologists have stressed a need for free online facilities with standardised tools and techniques for telemetry data [11,17,22]. These facilities should not be limited to data management but should also support the analysis, visualisation and sharing of animal tracking data. A number of Web-based animal telemetry data repositories are currently available for this purpose. These include Movebank [23], OBIS-SEAMAP (Ocean Biogeographic Information System-Spatial Ecological Analysis of Megavertebrate Populations) [24], Wildlife Tracking (formerly Seaturtle.org) [17], Wireless Remote Animal Monitoring [25] and the European Roe Deer project [26]. Data within these repositories are stored in a way which permits multi-user support and data sharing, a secure and consistent storage system and analysis and filtering tools of varying complexity. However, the data policies of these facilities are still restrictive [13], with only a small fraction of contributed datasets accessible for downloading or viewing. Furthermore, the infrastructure underlying these repositories remains guarded (or focused on a single species), reducing the potential for the examination and further development of these tools by the wider biotelemetry community.
In this paper, we introduce an online platform based on a spatially enabled database management system (DBMS) for the archiving, analysis and dissemination of multi-species tracking data: OzTrack.org [27,28]. Our main objectives were twofold. The first objective was to develop a free, open source, highly accessible yet comprehensive Web-based application with automated procedures and tools for processing animal location data. Our second objective was to increase data and metadata visibility, thereby encouraging a data sharing culture amongst the animal tracking community. These objectives were achieved through a collaborative partnership between biologists and software engineers based at The University of Queensland, and a steering committee comprising researchers and practitioners of wildlife telemetry and eResearch services. Researchers conducting biotelemetry studies now have access to the tools and contributed telemetry datasets resulting from this collaboration. Here, we provide a description of the software architecture, discuss system uptake and illustrate system functionality using existing OzTrack projects. Finally, we discuss future developments and argue why an open-access approach to data, analysis tools and software is fundamental if we are to keep up with the rapid advancement of the devices themselves.
Methods
The database management system
The OzTrack system was implemented using the open-source object-relational database system PostgreSQL [
29
] (version 9.1), with its spatial extension PostGIS [
30
] (version 2.0). These tools were overlaid within a Java Web application and a user-friendly Web interface constructed to enable project creation and metadata upload (Figure
1
). The input process is straightforward: project metadata is entered via an online form, with animal location data uploaded in Comma-Separated Value (.CSV) or Microsoft Excel (.XLS) files. To increase system flexibility, animal location datasets may be uploaded with dates and times in the format "dd/mm/yyyy HH:MM" or "yyyy-mm-dd HH:MM:SS" and geographical coordinates as decimal degrees, degrees decimal minutes or degrees minutes seconds in the World Geodetic System (WGS) 1984 datum. The entry of a species' common name and species' scientific name is automated using the Atlas of Living Australia Autocomplete Web service [
31
]. There is also the option for users to enter the species' common and scientific name manually, increasing the transferability to study outside of Australia. Metadata describing data collections, users and projects within the system are published to Australian National Data Service-Research Data Australia (ANDS-RDA) in the Registry Interchange Format—Collections and Services (RIF-CS) metadata format. The OzTrack system is hosted on server infrastructure within the National eResearch Collaboration Tools and Resources (NeCTAR) Research Cloud. This greatly reduced the administration costs and effort compared with hosting the system locally.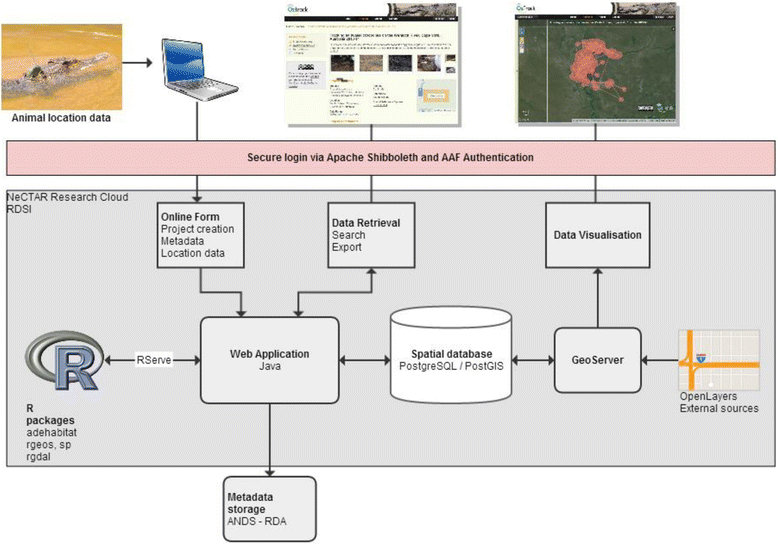 Mapping functionality
Interactive mapping and visualisation services were obtained from the open-source GeoServer software server [32], providing a consistent interface for rendering maps and feature data. Data are visualised via an in-browser OpenLayers map, which includes Google Maps base imagery, and measure and zoom functionality (Figure 1). Climatic, environmental and political spatial layers were obtained from online remote sensing repositories covering both the terrestrial and the marine environments (Additional file 1: Table S1). Layers are rendered as raster images on the server side using GeoServer, which are then visualised as Portable Network Graphics (.PNG) image tiles at the required zoom level. This feature was found to dramatically speed up the processing time, particularly for datasets containing large numbers of location fixes (e.g. those approaching 10,000 detections) [27]. Requests for map tiles, feature attributes and map legends were developed using GeoServer's WMS interface. Once visualised, Structured Query Language (SQL) statements are used to query the animal locations, trajectories and spatial layers. Full details on the implementation of these tools, and the underlying code, can be found on the OzTrack GitHub website [33].
Analysis tools
Once location data are uploaded into a project, movement metrics such as the total number of fixes per deployment, the mean number of fixes per day, animal step length and the minimum distance travelled are extracted automatically using a series of SQL statements. Standard filtering options for data visualisation and analysis were implemented using update statements in SQL, such as setting a start and end date or tag location quality (i.e. Argos location class, dilution of precision class). OzTrack also provides a polygon selection tool permitting the user to manually delete improbable location estimates (e.g. an inland location for a marine species) from a project. To perform more complex spatial analyses and data filtering procedures, the system connects to the R programming environment [
34
] via RServe [
35
]. Spatial analysis and filtering tools contained within contributed R packages (Table
1
, Additional file
2
: Table S2), and our own customised R code and R-Forge (a R interface to GDAL, OGR and PROJ.4) are all called inside the OzTrack system as native procedures (Figure
1
). Support regarding the parameterisation of the analysis and filter tools can be found in the form of help icons positioned next to the appropriate tool or through links provided to the R package help files, vignettes and publications via the system's Web portal [
33
]. Spatial distances are calculated as great circle distances on the WGS 1984 ellipsoid, and area calculations are performed after locations are converted from this geographical coordinate system into a suitable projected spatial reference system (SRS). SRS conversions are conducted using PROJ.4 projection arguments in the rgdal R package [
36
], with EPSG codes obtained from spatialreference.org [
37
]. The results of these procedures (i.e. vector-based objects: points, lines or polygons) are returned to OzTrack using the Keyhole Markup Language (KML) format via RServe for visualisation.
Table 1
Current tool functionality and data formats for export
| Tool | Description | Exportable format |
| --- | --- | --- |
| Editing tools | | |
|  Polygon selection | Manual selection of locations for removal by drawing polygons. | .CSV, .KML, .SHP |
|  Date filter | Filter locations by date range. | .CSV, .KML, .SHP |
|  Location class filter | Locations with a lower location accuracy than the minimum specified will be deleted. | .CSV, .KML, .SHP |
|  Speed filter | Locations that imply the animal has exceeded the specified maximum speed will be deleted. | .CSV, .KML, .SHP |
|  Kalman filter | This filter applies a state-space model combined with a Kalman filter to the location data to predict the "most probable" track. | .CSV, .KML, .SHP |
|  Kalman filtered data (SST) | This filter applies a state-space model combined with a Kalman filter to the location and temperature sensor data predict the 'most probable' track. The tag-recorded SST is matched with external SST data collected by the National Oceanic and Atmospheric Administration. | .CSV, .KML, .SHP |
| Analysis tools | | |
|  Movement metrics | Track distance, mean step length and mean step speed are extracted using the great circle distance algorithm. | - |
|  Minimum convex polygon | A home range measure which uses the smallest area convex set that contains the location data. | .KML, .SHP |
|  Kernel utilisation distribution | A home range measure which uses the utilisation distribution to estimate the probability that an animal will be found at a specific geographical location. | .KML, .SHP |
|  Kernel Brownian bridge | A home range measure which uses the utilisation distribution to estimate the probability that an animal will be found at a specific geographical location. Unlike the fixed kernel approach, the Kernel Brownian Bridge incorporates serial autocorrelation between fixes into the estimate. | .KML, .SHP |
|  Alpha hull | A generalisation of the convex hull, which uses Delaunay triangulation to objectively crop low use areas from a polygon surface. | .KML, .SHP |
|  Local convex hull | A home range measure which creates utilisation distributions based on the local nearest-neighbour convex hulls. These are formed by constructing convex hulls around each location in the animal's trajectory then jointing these hulls together, iteratively, to form isopleths. | .KML, .SHP |
|  Heat map | This tool generates a grid over the study area and uses a coloured gradient to visually identify areas of high usage by the tagged animal. Can be applied to either points or connectivity lines between points. | .KML, .SHP |
All capture and tagging procedures were carried out with approval from The University of Queensland Animal Ethics Committee (Cassowaries:SIB/935/08/EPA ; Crocodiles: SBS/204/11/ARC/AUST ZOO; Koalas: CMLR/091/12/ARC/RIO TINTO) and a Queensland Government permits (Cassowaries: DERM 2011/02/01; Crocodiles: WISP05268508; Koalas: WISP05609708).
Conclusions
New developments in tracking hardware, pressures for open access to data and the need for multidisciplinary collaborations are accelerating us towards a new age of ecological research [11]. The system infrastructure that we developed provides an integrated, online, free and open-source system that facilitates the uploading, editing, analysis, archiving and sharing of animal tracking datasets. The observed uptake by the Australasian biotelemetry community suggests that the system is proving a valuable resource for researchers despite the stipulation that the data must become publicly available once the embargo period has expired. While the OzTrack system is still in its infancy, our intent is that its framework will promote collaboration, encourage future tool development and help ensure the long-term legacy of animal location datasets. Platform sustainability into the future is however unsubstantiated, due to the short-term nature of funding cycles. Thus, the involvement of the community in terms of funding and system development, as well as integration of the platform into larger eScience infrastructures, may be required to ensure its longevity.
Availability of supporting data
Abbreviations
ANDS:

Australian National Data Service
CSV:

Comma-Separated Value
DBMS:

Database management system
DOI:

Digital object identifier
GIS:

Geographical information system
IP:

Intellectual property
IT:

Information technology
KML:

Keyhole Markup Language
NeCTAR:

National eResearch Collaboration Tools and Resources
OBIS-SEAMAP:

Ocean Biogeographic Information System-Spatial Ecological Analysis of Megavertebrate Populations
PNG:

Portable Network Graphics
RIF-CS:

Registry Interchange Format—Collections and Services
RDA:

Research Data Australia
SQL:

Structured Query Language
SRS:

Spatial reference system
WGS:

World Geodetic System
XLS:

Microsoft Excel file
Declarations
Acknowledgements
We would like to thank our Steering Committee (G. Baxter, M. Hindell, T. Patterson, S. Phinn, C. Simpfendorfer, N. Ward and D. Westcott) and members of the ACEAS Working Group for Advancing the application of animal telemetry data in ecosystem management for ideas that were essential in our system development. We thank S. Fitzgibbon, B. Ellis, G. Grecian, M. Amos, G. Taylor, L. Carpenter, E. Best, B. Arthur, The University of Queensland Conservation Biology 2013/14 class and multiple others who helped test the system and provided helpful feedback. We would also like to acknowledge Peggy Newman for her work during our system's early development. OzTrack was supported through the Australian Government's National eResearch Collaboration Tools and Resources (NeCTAR) eResearch Tools program and the Australian National Data Service (ANDS) Data Capture program. RGD was the recipient of an Australian Government Endeavour Research Fellowship.
Authors' Affiliations
(1)
EcoLab, School of Biological Sciences, The University of Queensland, Brisbane, Australia
(2)
The eResearch Lab, School of ITEE, The University of Queensland, Brisbane, Australia
(3)
Environmental Decisions Group, The University of Queensland, Brisbane, Australia
(4)
Department of Ecosystem Management, School of Environment and Rural Science, The University of New England, Armidale, Australia
Copyright
© Dwyer et al.; licensee BioMed Central. 2015
This is an Open Access article distributed under the terms of the Creative Commons Attribution License (http://creativecommons.org/licenses/by/4.0), which permits unrestricted use, distribution, and reproduction in any medium, provided the original work is properly credited. The Creative Commons Public Domain Dedication waiver (http://creativecommons.org/publicdomain/zero/1.0/) applies to the data made available in this article, unless otherwise stated.