Characterizing response of East Pacific green turtles to changing temperatures: using acoustic telemetry in a highly urbanized environment
Animal Biotelemetry
2016
4:22
Received: 1 April 2016
Accepted: 20 October 2016
Published: 5 December 2016
Abstract
Background
Ocean water temperature is changing as a result of anthropogenic influences on the marine environment. Highly mobile marine ectotherms, such as sea turtles, may be particularly susceptible to these changes. However, our current understanding of location-specific thermal tolerances, especially at coastal foraging or over-wintering areas, is limited. Human-induced changes, such as thermal effluent from power plants, appear to have a suite of influences on species that reside in affected areas. Here, we describe a study of green turtle habitat use related to changing water temperature at a coastal foraging site that has recently experienced a power plant closure, leading to a transition to cooler ambient water temperature. We used a combination of active and passive acoustic telemetry to monitor green turtle distribution in relation to water temperature in this dynamic thermal environment.
Results
Both before and after closure of the power plant, turtles were distributed in significantly warmer waters than surrounding environments during winter months (December–February). Turtles in winter were rarely detected in water temperatures lower than 14.5 °C. Body size was negatively correlated with water temperature after closure of the power plant, with larger turtles found in cooler waters, while smaller turtles remained within warmer areas. There was not a significant relationship between body size and water temperature before closure of the power plant as water temperature was more constant during operation.
Conclusions
Green turtles in San Diego Bay experienced a shift in water temperature following the loss of thermal effluent from a power plant. The effects of this shift were particularly evident during winter months, when ambient water temperatures were coolest. Water temperatures in the southern region of San Diego Bay were significantly warmer during winter before the closure of the power plant, and turtles were detected in significantly warmer water. Turtles in San Diego Bay may associate with or seek out thermal refugia, when possible, to avoid low water temperatures. The cold water temperature inactivity threshold for East Pacific green turtles may be lower than previously thought. There was a significant negative relationship between turtle size and water temperature after power plant closure. East Pacific green turtles exhibit clear responses in habitat use to changes in water temperature at a foraging site near the edge of their geographic range.
Keywords
Temperature
Behavior
Green turtle
Power plant
Anthropogenic
Background
Globally and locally, water temperatures are changing at unprecedented rates and these changes are likely already impacting animals [6, 20, 42]. Although considerable uncertainty remains as to how exactly marine ecosystems will be affected by global temperature change [9], understanding how marine ectotherms respond to thermal dynamics is a necessary element for effective conservation and management. Marine ectotherms reliant on particular thermal conditions for proper physiological and behavioral functions are particularly susceptible to changes in environmental temperature.
Marine turtles represent one such group of marine ectotherms whose relationship with water temperature has been particularly well studied. Environmental temperature directly affects rates of marine turtle metabolism and other physiological processes, i.e., circulation, respiration, feeding and digestion, osmoregulation and pH balance [17, 19, 33]. As environmental temperature increases, and in turn body temperature, so does the rate of these bodily processes [17, 33]. Likewise, metabolic and physiological processes of marine turtles, like other ectotherms, slow at lower environmental temperatures [52, 59]. For adult marine turtles at foraging habitats, water temperature is a key environmental factor that influences behavior. Marine turtles have been found to decrease activity levels and become torpid in response to water temperatures below 15 °C as a means to direct energy to basic physiological maintenance; metabolic rates, heart rate and respiration rates are all lower in cooler water temperatures [18, 46, 48].
For marine turtles, temperature changes will likely affect local and migratory movement, as well as the availability of adequate resources at breeding and foraging areas [16, 20, 42]. Marine turtles may be able to contend with changes in the thermal environment by expanding their ranges and/or utilizing thermal refugia. However, new areas may not have the appropriate food resources or the environmental conditions previous habitats offered. Access to thermal refugia is likely most important for marine megafauna at the boundaries of their range [22, 50] where they must contend with thermal conditions outside of their preferred thermal optima [30]. As a result, these populations may be able to tolerate greater variability in water temperature and/or may acclimate to variability by changing their behavior.
Size also plays an important role in distribution related to water temperature. Larger organisms maintain a higher degree of thermal inertia and are more equipped to contend with cooler water temperatures due to their reduced surface area to volume ratio. Because of their large body mass marine turtles are able to maintain stable core body temperature through metabolic heat production [5, 38, 52]. This thermal inertia allows diving ectotherms to maintain internal body temperature warmer than the external environment for extended periods of time—further increasing dive duration and/or depth [33, 37, 45]. However, thermal inertia is ineffective at maintaining core body temperature even in larger turtles after prolonged exposure to water temperatures below 8–10 °C [35, 41, 61].
The general thermal ecology of marine turtles has been fairly well described. Species-specific temperature preferences have been found in both pelagic and coastal waters [14, 15, 46, 47, 50–52]. Marine turtle species experience different thermal conditions across their ranges; hence, understanding location-specific tolerance is crucial. Aggregations in temperate marine ecoregions [49], especially near the thermal extremes of a given species, are more susceptible to extreme water temperatures approaching potentially lethal levels, i.e., 8–10 °C [4].
One major anthropogenic influence on local marine environments is thermal effluent from power plants, which use once-through cooling (OTC) systems. OTC power stations discard waste heat, a by-product of the plant cooling process, into nearby aquatic environments, thus altering the thermal conditions of the environment. These plants are most commonly found in temperate climates, where ambient environmental water temperature is low enough to be utilized for the cooling process [23, 28]. Average water temperature discharged from OTC power stations between 1996 and 2005 was 37 °C (±6.5–6.8 °C) and 9.5–10 °C (±4.8–5.0 °C) higher than ambient temperatures in summer, when ambient temperatures are highest [28]. Since the early 1970s, studies of mobile aquatic organisms have demonstrated physiological and behavioral changes across taxa in response to the heated effluent from power plants [12, 50, 55, 57]. Marine turtle species in Brazil, Chile and the USA have also demonstrated high aggregations in the thermal effluent areas of industrial plants [10, 11, 57, 7, 13, 43, 56].
Understanding the thermal ecology of marine turtles in the natural environment is critical to the management of these species. Although considerable work has been done in the laboratory studying responses by marine turtles to temperature change [36, 39, 52, 59], the results of these studies may have limited application to how ectothermic vertebrates contend with shifts in environmental temperature in situ, where other environmental variables are also factors [2]. Because of the shifts away from OTC power plants in the USA [8], these plant closures have provided an opportunity to study how marine ectotherms such as marine turtles respond behaviorally to shifts in environmental temperature.
We used acoustic telemetry to monitor the response of green turtles (Chelonia mydas) to temperature in the northern extreme of their foraging aggregation [10, 11]. The behavior and movements of green turtles were described before and after closure of an OTC fossil-fuel power plant. We also explore how this relationship varies with turtle size. Although local and global scale changes may be driven by different factors, changes to the thermal environment at the local level provide insights as to how animals may react to longer-term changes in global environmental temperature.
Results
Tagged turtles
A total of 35 individuals were tagged and tracked during this study. Of these, 9 turtles were monitored only before the SBPP closure, 14 turtles were monitored only after the SBPP closure, and 12 turtles were monitored both before and after the SBPP closure (Fig.
3
). The study group was comprised of 14 female turtles, 13 male turtles and 8 turtles that were juvenile/unknown sex. During SBPP operation, turtles aggregated in the effluent area (outfall) and nets were almost exclusively placed in this channel. Following the SBPP closure, turtle capture in the outfall area was inconsistent as turtles ceased to aggregate in the absence of the thermal effluent. Consistent successful turtle captures occurred almost exclusively in the intake channel following SBPP closure. Tag retention varied among individuals with a minimum of 1 day and a maximum of 396 days. Weights of tagged turtles ranged from 18 to 192 kg; when an individual was captured more than once, the weights were averaged across the study period (Fig.
3
).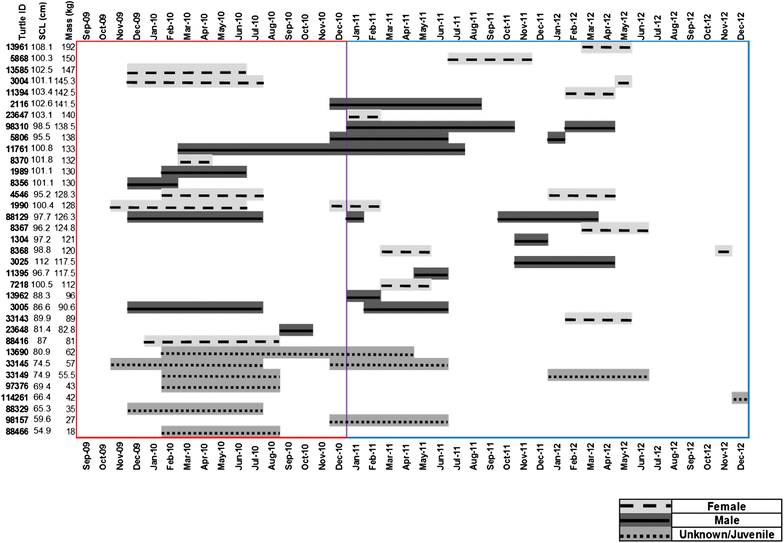 Water temperature
Average water temperatures in winter months were not significantly different between 2009 and 2010 (before SBPP closure) and were not significantly different between 2011 and 2012 (after SBPP closure). Therefore, we grouped temperature based on SBPP operational status: before (2009, 2010) and after (2011, 2012). Both before and after SBPP closure, the warmest water temperatures in South Bay were recorded in the effluent area (Fig.
4
). Mean winter water temperature in the effluent area of the SBPP was significantly colder after closure of the SBPP (
t
= −8.945,
df
= 976,
p
< 0.001). Mean winter water temperature during SBPP operation was 17.8 °C (±1.9 SE), and mean winter water temperature after SBPP closure was 16.6 °C (±2.1 SE).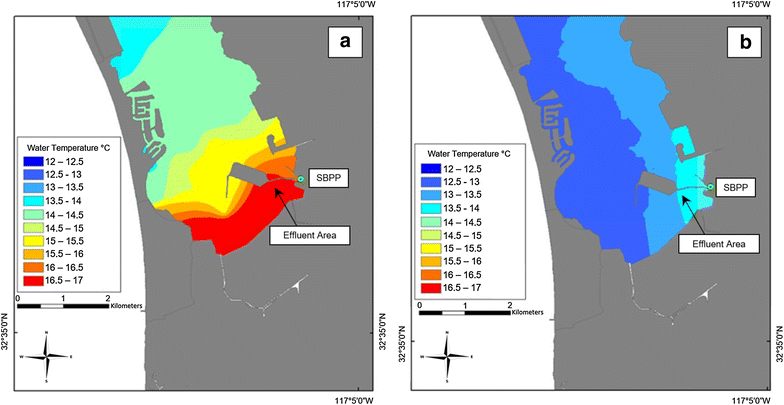 Turtle detections and associated thermal conditions
Turtles in this study were detected exclusively in the South Bay region of SDB: in and around the SBPP intake channel, effluent area and adjacent eelgrass beds (Fig.
1
). Results from the binary logistic regression revealed that water temperatures at the locations of turtle detections were significantly warmer than where turtles were not detected, both before (
Z
= 2.569,
p
= 0.010) and after SBPP closure (
Z
= 5.477,
p
< 0.001). Before SBPP closure, the mean water temperature where turtles were detected was 18.0 °C (±0.1 SE) with a range of 14.5–25.6 °C (Fig.
5
a). Mean water temperature was 17.4 °C (±0.2) at locations where turtles were not detected, with a range of 11.3–29.1 °C (Fig.
5
a). After SBPP closure, the mean water temperature at turtle detections was 17.0 °C (±0.1 SE) with a range of 12.5–22.4 °C (Fig.
5
b). Mean water temperature was 15.9 °C (±0.2) with a range of 11.54–21.86 °C at locations where turtles were not detected (Fig.
5
b).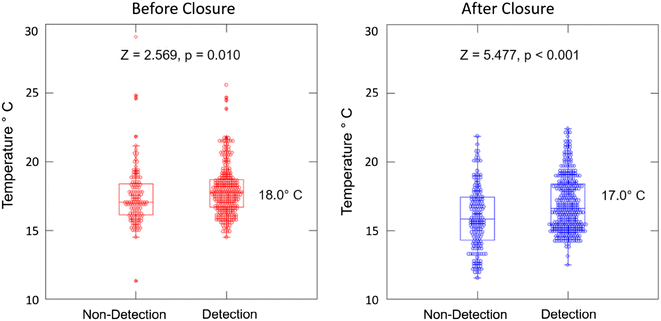 Association between size class and thermal conditions
The GLM revealed no significant relationship between mean water temperature at turtle detection locations and turtle size before SBPP closure (F = 0.324; df = 1; p = 0.569; y = −0.003x + 20.134). However, following the closure of the SBPP turtle size had a significant negative relationship with mean water temperature. Larger turtles were found in the coldest waters and smaller turtles in the warmest waters (F = 4.858; df = 1; p = 0.028; y = −0.011x + 17.934).
Discussion
In San Diego Bay, we found that green turtles responded to shifts in water temperature by inhabiting warmer than average areas in winter months. Water temperatures in San Diego Bay during winter frequently dropped to levels that are physiologically challenging for green turtles; however, tagged turtles were not detected in water temperatures <12.5 °C. This temperature is lower than that suggested for green turtle survival, as Seminoff [46] recorded an approximate minimum water temperature at detection of about 15 °C of green turtles in the nearby Gulf of California.
Turtles in San Diego Bay utilized the thermal effluent from the SBPP as a means of thermal refuge when water temperatures were at or below the inactivity threshold for this population. Turtles aggregated in the effluent area when water temperatures were cooler (at night; in winter) and then would move out into adjacent eelgrass pastures for foraging during the day and in summer [27]. However, after the SBPP closure, resident turtles were still able to find pockets of warm water, despite the loss of thermal effluent. Although not considered here, it is also possible that turtles in SDB and other foraging sites altered their activity levels as well as their spatial distribution (i.e., changing patterns of resting or diving) in response to temperature shifts [29].
Green turtles in San Diego Bay are some of the largest on record in the Eastern Pacific Ocean, potentially an indirect result of the year-round warmer water temperatures during SBPP operation; turtles were able to forage year-round instead of entering torpor as is typical in other foraging populations [10, 11]. Prior to the closure of the SBPP, turtles of all sizes were distributed in similar average water temperatures. However, after closure of the SBPP, we found a negative relationship between sea turtle size and water temperature.
Conclusions
Understanding the relationship of marine megafauna and water temperatures is critical given the ongoing and rapid shifts in local and global thermal conditions [30]. These environmental changes will continue to impact resident and migratory animals in coastal environments [6]. Because logistical constraints make monitoring highly mobile species with complex life histories problematic, biotelemetry plays an important role in characterizing marine species responses to changing thermal conditions in the ocean. Human-induced changes to water temperature at the local level provide a relevant, model system to monitor behavioral and physiological responses to temperature shifts that can help predict likely responses to marine temperature shifts for long-lived, highly mobile marine megafauna.
Green turtle presence in San Diego Bay preceded the operation of the SBPP [53], and our research demonstrates the turtles' continued use of this foraging area even with the decrease in winter water temperatures. The habitat use of turtles was affected by the power plant operation with turtles aggregated in the effluent area. Following the plant decommissioning, we observed a shift in habitat use in response to the loss of warm-water effluent. Our findings suggest that foraging turtles can identify and associate with thermal refugia and that these areas may be outside of the former local home range for this aggregation [26]. MacDonald et al. [26] found that green turtle home range in San Diego Bay was limited to waters within the San Diego Bay National Wildlife Refuge, where turtles were afforded protection in the form of limited boat traffic and speed restrictions [58]. Turtles venturing northerly in San Diego Bay to associate with possible thermal refugia will encounter greatly increased commercial and recreational boating activity from the US Navy, cruise ships, cargo ships and recreational users. Continued monitoring of movement and habitat use of this aggregation is necessary to describe how foraging turtles, like those found in San Diego Bay, will continue to respond to thermally dynamic environments and other direct human impacts (e.g., boat strikes, debris entanglement, fisheries bycatch and contamination). Conservation and management of this foraging aggregation will be critical, especially as the ecosystem in San Diego Bay recovers in the years following the power plant closure.
Other studies have demonstrated similar aggregations of marine turtles in the thermal effluent of power plants that utilize once-through cooling systems [10, 11, 57, 7, 13, 43, 56]. However, to the best of our knowledge, this study is the first to document turtle response during both power plant operation and in the time immediately following plant decommissioning. As energy needs continue to change and new technology eliminates the need for once-through cooling systems [8], these power plant closures will become increasingly common. Power plant closures provide an experimental in situ opportunity to explore the response of a large vertebrate marine species to changing thermal conditions. In light of current and future changes to the thermal environment from anthropogenic influences, behavioral plasticity of coastal organisms will play an important role in whether these organisms can acclimatize to increased thermal variability. Characterizing the responses of coastal fauna to rapid shifts in thermal conditions addresses a gap in ecological knowledge—understanding how populations of long-lived marine vertebrates will be affected by a thermally dynamic environment that is changing at a rapid rate.
Abbreviations
GLM:

generalized linear model
OTC:

once-through cooling
SBPP:

South Bay Power Plant
SCL:

straight carapace length
SDB:

San Diego Bay
SUR:

submersible ultrasonic receiver
Declarations
Authors' contributions
This study was conducted as part of the doctoral dissertation of SVM in the Joint Doctoral Program in Ecology through San Diego State University and University of California, Davis. SVM developed methodology, conducted acoustic telemetry and monitoring, performed the statistical analyses and drafted the manuscript. RLL secured funding for the research, participated in study design, helped to draft the manuscript and served as academic advisor and dissertation committee chair for SVM. JAS participated in study design and field research, assisted in securing funding, provided edits for the manuscript and served on the dissertation committee of SVM. TE participated in study design and field research, assisted in securing funding and provided guidance in statistical analyses and edits for the manuscript. The study was conceived by JAS and TE and further developed by RLL and SVM. All authors read and approved the final manuscript.
Acknowledgements
The authors wish to acknowledge members of the Conservation Ecology Lab at San Diego State University and members of the Marine Turtle Ecology and Assessment Program. We thank the following individuals for their tremendous support in the field: J. Bredvik, J. Brower, S. Coates, C. Coppenrath, A. D'Amico, A. Gaos, S. Graham, T. Grimes, D. Ho, C. Jackson, G. Lemons, N. Magana, D. Mahoney, B. MacDonald, R. Moens, N. Nourn, K, Ritchie, A. Miller, D. Prosperi, J. Okuyama, C. Turner-Tomaszewicz and the entire NOAA-NMFS team that assisted with turtle capture. Our gratitude is also extended to R. LeRoux for the invaluable assistance in sonic transmitter attachment, permitting and coordination of turtle capture.
Competing interests
The authors declare that they have no competing interests.
Availability of data and materials
The datasets used and/or analyzed in this study are available from the corresponding author upon reasonable request.
Ethics approval and consent to participate
All research and animal handling were carried out under National Marine Fisheries Service Permit #1591 and #16803 and were in compliance with IACUC protocol at San Diego State University.
Funding
Financial and logistical support was provided by San Diego State University, San Diego State University Research Foundation, NOAA Service Southwest Fisheries Science Center, Unified Port of San Diego, the US Navy, Sonotronics Inc. and South Bay Power Plant LLC.
Open AccessThis article is distributed under the terms of the Creative Commons Attribution 4.0 International License (http://creativecommons.org/licenses/by/4.0/), which permits unrestricted use, distribution, and reproduction in any medium, provided you give appropriate credit to the original author(s) and the source, provide a link to the Creative Commons license, and indicate if changes were made. The Creative Commons Public Domain Dedication waiver (http://creativecommons.org/publicdomain/zero/1.0/) applies to the data made available in this article, unless otherwise stated.
Authors' Affiliations
(1)
San Diego State University, San Diego, USA
(2)
National Marine Fisheries Service, Southwest Fisheries Science Center, La Jolla, USA