Reduction in adverse effects of tracking devices on waterfowl requires better measuring and reporting
Animal Biotelemetry
2017
5:24
Received: 4 April 2017
Accepted: 14 October 2017
Published: 27 October 2017
Abstract
Since the first studies in the mid-twentieth century, lightweight electronic tracking devices have been increasingly used to study waterfowl movements. With half a century of experience and growing sample sizes, it has become clear that the attachment of a tracking device can affect a bird's behaviour and fitness. This becomes problematic when it introduces uncertainty about whether the recorded data represent natural behaviour. Waterfowl may be particularly prone to tag effects, since many species are migratory and tracking devices can disrupt their waterproof plumage. The primary aim of this paper is to identify how tracking devices may affect waterfowl survival, migration and reproduction, and how better measuring and reporting of such effects can improve our understanding of the risks, providing a first step towards reducing their impact in future studies. We reviewed literature on electronic tracking of waterfowl to create an overview of currently recognized effects of harness-attached backpacks, implants, subcutaneous attachments and neck collars. Additionally, we analysed developments in the use of attachment methods, the weight of tracking devices relative to bird body mass, and the reporting rate of effects of tracking devices in 202 original tracking studies. We found that although the number of waterfowl tracking studies described in peer-reviewed literature has steeply increased over the past decades, reporting rates of potential effects have decreased from 65.0 to 26.5%. Meanwhile, the mean weight of the tracking devices relative to the bird's body mass remained stable around 2.0%. Major negative effects were reported in 17% of all studies and were found for all attachment methods. Overall, large differences exist in the occurrence and type of negative effects between species and studies, even if the same tracking methods were used. Inconsistent reporting of effects, lack of control groups to measure effects and incomplete descriptions of the methodology hamper the identification of factors contributing to these effects. To accomplish a reduction in adverse effects of tracking, it is necessary to improve the measuring and reporting of effects. We propose a framework for standardized reporting of methods in primary tracking studies and standardized protocols to measure effects of tracking devices on waterfowl.
Keywords
AnatidaeGPS loggerRadio transmitterSatellite telemetryTracking studiesWaterfowl
Background
The development of lightweight electronic tracking devices, which can transmit or log global positions and are small enough to deploy on free-ranging wild birds, has unchained a revolution in ornithology [10]. Such devices enable tracking of birds during their entire annual cycle, and assessing fine-scale movement behaviour and individual behavioural strategies, which is difficult or impossible using conventional marking methods (metal rings or colour bands), especially in long-distance migrants. The ability to remotely track bird movements with high resolution and accuracy, for example using current GPS transmitters (up to 5 m accuracy with a GPS-fix every 3 s), has greatly improved our understanding of their behaviour and ecology, with important implications for their conservation [41]. Due to their large body size, waterfowl (swans, geese and ducks) were already tracked regularly by radiotelemetry since the 1960s (e.g. [67]). When satellite transmitters were introduced in the 1980s, waterfowl were among the first birds to which attachment of the relatively large first models was considered acceptable (e.g. Trumpeter Swan Cygnus buccinator and Tundra Swan C. columbianus; [56, 81]). As tracking devices became smaller, lighter and cheaper over the years [10], their use on birds has become a well-established tool in ornithology and an increasing number of species are being tracked in their natural habitat.
However, with an increasing availability of tracking devices and the corresponding increase in individual birds on which they are being deployed, the need to understand and reduce their potential detrimental effects on birds is ever pressing. A growing number of publications show that tracking may come with a cost for the animal, which becomes especially problematic when it affects the measured behaviour (reviewed in [4, 13, 55, 84]). Among the negative effects identified in these reviews are increased mortality, disturbed (migratory) behaviour and reduced reproductive success, eventually resulting in lower fitness. Study species, transmitter type and attachment method are the most obvious factors that may determine the effect on a bird and thus the success or failure of a tracking study. Taking these factors into account when designing a telemetry study is not only important for animal welfare, but will also ensure that the researcher can be confident that the observed behaviour (e.g. migration strategy) is not an artefact of the tracking method [86]. Thorough understanding of such factors, especially prior to studying an unfamiliar species or using unfamiliar materials or techniques, requires open communication among researchers and the exchange of positive as well as negative experiences from the field.
Important contributions to communication about effects of telemetry on birds have already appeared in scientific literature. A comprehensive meta-analysis of transmitter effects on a wide range of bird species by Barron et al. [4] has shown that tracking devices often (but some more than others, see [84]) affect the birds carrying them. Although the study did not find a direct effect on flight ability, some degree of negative effects were found for all other aspects of the birds' ecology and behaviour covered in this study. Energy expenditure and the probability to initiate nesting were most strongly affected, with obvious long-term fitness consequences. A meta-analysis of tagging effects on seabirds [82] found that despite a growing number of studies making use of tracking devices, still relatively few studies explicitly consider the possible adverse effects on their study species.
In this study, we focus on waterfowl (Anatidae), a group of birds that, despite their large body size, may be particularly prone to negative effects. Many waterfowl populations are migratory [18] and may be energetically constrained by carrying a tag [61]. Also, due to their aquatic habitat, the breaching of their waterproof plumage by device attachment may affect their thermoregulation [3, 49, 60]. Thanks to the long history of waterfowl tracking, much experience has been acquired by researchers in the field. Accordingly, papers discussing effects of loggers on several waterfowl species appear regularly in the literature, but considering the vast number of species tracked in the past decades, much more information on the extent of these effects must be available. Disclosing this information is essential to improve tracking methods and reduce the associated negative effects. The primary aim of this paper is to identify which problems are associated with different tracking methods and study species, and to set out directions towards the reduction in adverse effects in future studies, for which we deem improved measuring and reporting of these effects an important first step.
To this end, we reviewed the effects of tracking devices and attachment methods described in the literature and evaluated the occurrence and the reporting rate of effects in 202 primary tracking studies. Based on our findings, we propose a standardized format for reporting details of tracking methods used in waterfowl studies and give suggestions on how studies can be set up in order to improve detection of potential adverse effects of tracking devices on the study species. We hope that this will facilitate identification of the best practice methods for each combination of tracking method and waterfowl species. It is important to note that many of the field studies covered in this paper are based on pioneering work and it is explicitly not our intention to judge the practices of any individual researcher or research group. Rather, we hope to show here that these studies are now invaluable for evaluating how we can prevent problems in the future, which will ultimately lead to better science.
Methods
To evaluate the occurrence and reporting rates of potential effects, we performed a literature search in Web of Science and Google Scholar in December 2015 using the following search terms: (goose OR swan OR duck) AND (tracking OR GPS OR telemetry). We then included every study which was performed in the field (no captivity studies), and which used any attached electronic tracking device on waterfowl (thus including the full range of VHF-transmitters, PTT satellite transmitters, GPS-loggers, GPS-GSM transmitters and geolocators), attached using any method (thus including harness attachments, implants, neck collars, subcutaneous attachments and other methods). We complemented this list by reviewing cited and citing papers, finally resulting in a set of 202 relevant studies (see Additional file 1 for the complete list). Note that this list of waterfowl tracking studies is not fully comprehensive, but provides a representative sample for our evaluations. From this set of studies, we extracted basic details on tracking methods, study species, whether effects of tracking devices were reported and which effects were reported, when possible subdivided in effects on survival, migration and reproduction (Additional file 2). We considered a study to report effects if it compared the performance of birds equipped with tracking devices with a control group or with data extracted from earlier studies or other literature. For studies not reporting the body mass of the birds, we extracted the mean body mass for the relevant species and sex from the Handbook of Birds of the World [18]. If it was unclear which sex was tracked, we used the average weight of males and females taken together. By dividing the weight of the tracking device by the bird's body mass, we calculated the relative weight of the tracking device. For this calculation, we excluded studies that failed to report the weight of the tracking device or did not specify device weights used for different study species. For classification of the attachment methods, we followed the definition of Roshier and Asmus [72]: (1) harness backpack, (2) abdominally implanted, (3) anchored in skin and (4) neck collar. Their fifth category was "tags attached to feathers", but this method was used so rarely that we combined it into an "other methods" category, including also tags glued to other parts of the body, or to plastic leg rings. For the category of harness backpacks, we found only studies using wing loop attachments, none of the studies in our analysis used leg loop attachments.
Waterfowl tracking: a brief history
Our literature review revealed that the use of telemetry to remotely track waterfowl movements has increased rapidly over the past three decades (Fig.
1
). So far, tracking devices have been deployed on waterfowl on all continents where waterfowl occur and included at least 54 species. Most tracking studies have been carried out in North America, making up 63% of the papers in this review. Europe and Asia lag far behind, accounting for 18 and 12% of the tracking studies, respectively. Less than 5% of all tracking studies were carried out in Africa and Australia, and our literature search revealed only one study from South America. The first tracking studies were carried out in the 1960s (first studies in our review were carried out in the 1970s) and exclusively used radio transmitters. The first published study using platform transmitter terminals (PTTs, also known as satellite transmitters) appeared in 1986, and since then PTTs have become most used device in telemetry studies (Fig.
1
a). However, since its first appearance in 2005, tracking devices using GPS have become increasingly popular in waterfowl telemetry and studies using this method already made up 42% of the publications in 2015. It would be expected that studies using GPS devices will soon outnumber those using PTTs. Clearly, this field of research is still under rapid development.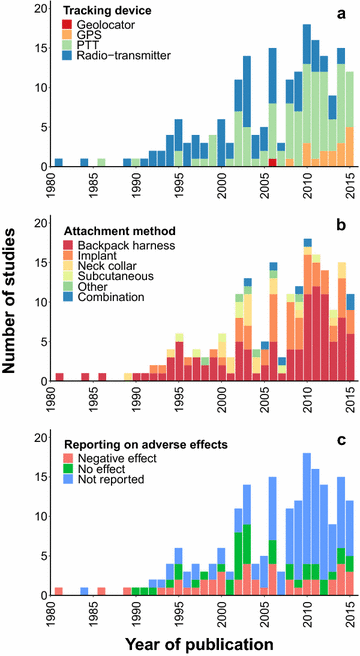 Although tracking devices have changed over the years, the relative use of different attachment methods has remained largely unchanged (Fig. 1b). Backpack harnesses, the first method used to attach tracking devices, are still the most common method, followed by implantation. Neck collars were used more often in the early 2000s, but have been used irregularly in the past 10 years. Apart from differences between attachment methods in adverse effects for waterfowl, the choice of attachment method should also depend on the research question of the researcher [44]. Harness-attached backpacks have the benefit of bringing the tracking device close the centre of gravity of the bird [44], while its placement on the back creates a large surface for charging of solar panels. Transmitter implantation in the abdominal cavity is sometimes preferred over the use of backpacks, especially in diving species, since this overcomes the problem of interruption of the waterproof plumage, as well as the problem of drag created by external devices during flying or diving. The main drawbacks of this method are that it does not allow the use of a solar panel to charge the batteries and that the procedure requires surgery by a specialized veterinarian. Mortality during or shortly after surgery can occur (e.g. [71]), and some studies using internal antennas also report a limited signal range of the transmitter as a major disadvantage [58]. Tracking devices can also be attached partly or completely subcutaneous. After making a small incision in the skin, either anchors attached to the tracking device (on one or two ends, e.g. [52]) or the complete tracking device can be placed under the skin (e.g. [45]), after which the incision can be closed by suture and/or glue. Depending on the scale and duration of the operation, birds can be briefly anesthetized (e.g. [12]). An important drawback of this attachment method is the high loss of subcutaneously attached transmitters, as was found in studies on Mallard Anas platyrhynchos (31 out of 49 transmitters lost, [73]), Northern Pintail Anas acuta (37 out of 82 lost, [26]) and Northern Shoveler Anas clypeata (20 out of 42 lost, Zimmer [88]). Neck collars with inscriptions are a common method to mark waterfowl, especially longer-necked species, for easy recognition in the field (e.g. [16, 55]), but they can also be used as a basis for the attachment of tracking devices. As neck collars are exterior, they can be used for devices working on solar power.
Since the start of telemetry in birds, the mass of the tracking device relative to the bird's body mass has received much attention to make sure that the bird would not carry too much additional load. As a rule of thumb, devices weighing up to 5% of the body mass were considered acceptable and this was later reduced to a preferred 3% as tracking devices became smaller [
42
]. Already in the first telemetry studies in waterfowl, the relative mass of tracking devices was kept around 3% of the bird's body mass. This was mainly due to the large species selected for these studies. Despite the decreasing weight of tracking devices over time (especially PTTs and GPS transmitters, Fig.
2
a), the weight relative to the bird's body mass has not decreased much on average and remained stable around 2%, with occasional extremes within studies down to 0.1% and up to 6.5% of the bird's body mass (Fig.
2
b). Part of the explanation for this is that smaller devices are used to track smaller waterfowl species. Radio transmitters have long been light enough to track small duck species, but only since a few years these species could be tracked using PTT or GPS devices, which provide much more data. The first waterfowl species lighter than 500 g to be tracked using modern tracking devices was the Eurasian Teal
Anas crecca
(mean weight 325 g), tracked with 9.5 g GPS-PTTs in 2007 [
59
]. Another important explanation is that with the development of telemetry techniques, researchers opted for novel devices with more possibilities, rather than reducing device weight.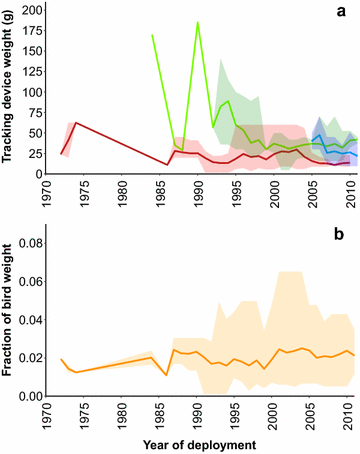 Effects of tracking devices on waterfowl
An important first step towards avoiding or reducing effects of deploying tracking devices on waterfowl is to know what can go wrong. We found that 17% of all original tracking studies (40% of studies reporting potential effects) reported major, long-lasting negative effects of their tracking method. Here, we review the effects of different transmitter attachment techniques on waterfowl, including effects on survival, behaviour, migration and reproduction.
Reporting of effects in primary tracking studies
Our review has revealed the wide range of potential effects that are associated with different tracking device types and attachment methods, but has also shown that many effects are still poorly understood. Full understanding of how tracking devices affect the behaviour and survival of waterfowl can only be obtained when these effects are studied and reported. No two tracking studies are carried out under exactly the same circumstances following the exact same procedure; hence, every study can add knowledge on causes of effects and how they can be avoided. In order to identify how communication about tagging effects could be improved, we first analysed the reporting behaviour in current waterfowl tracking literature.
Eighty-four out of the 202 (42%) primary tracking studies in this review (Additional file
1
) reported the presence or absence of an effect of the tracking methodology (Table
1
). In only 18 of these 84 studies (21%), this was based on a comparison of the tagged birds with a control group. Other studies based this on a comparison of tagged birds with data of the rest of the population (36 studies), a comparison with birds tagged using another tracking method (7 studies), observation of tagged birds (6 studies) or did not clarify (17 studies). Of the 84 studies that reported whether or not there was an effect, two mention that tag effects were hard to distinguish from other factors, and 43 studies specifically mention that there was no effect. In the other 39 out of 84 studies, the reported tagging effect was considered negative (no positive effects were reported), corresponding to 19.3% of the total of 202 studies. The number of studies that used control groups did not differ between studies that either did (9/39; 23%) or did not find negative effects (9/43; 21%). When distinguishing between studies that found minor effects (such as short-term weight loss or behavioural changes lasting less than a few weeks) and major effects (directly impacting fitness via effects on survival, reproduction or migratory behaviour), we found that 34 out of the 39 studies reporting negative effects included major effects, which is 17% of the total of 202 studies. We broadly distinguished between effects on survival, reproduction and migration and found that only one of these 34 studies discussed all three components [
38
]. Most of the studies only mention effects on survival and/or reproduction, while very few report effects on migration. Given the above described effects of transmitter-induced drag on the flight range of migrating waterfowl, this low report rate is unlikely due to a lack of effects but rather due to difficulties with detecting effects on migration. Since effects in wild birds can be difficult to detect in general, it is questionable whether studies explicitly claiming no adverse effects on their study species without the use of an untagged control group, used an appropriate study setup to detect such effects.
Table 1
Numbers and fractions (between brackets) of studies reporting effects of different types of tracking devices
| | Backpack harness | Implant | Subcutaneous | Neck collar | Other | Total |
| --- | --- | --- | --- | --- | --- | --- |
| Reported | 45/112 (0.40) | 25/59 (0.42) | 6/14 (0.43) | 9/23 (0.39) | 3/6 (0.50) | 84/202 (0.42) |
| Control group | 8/45 (0.18) | 5/25 (0.2) | 1/6 (0.17) | 4/9 (0.44) | 0/3 (0.0) | 18/84 (0.21) |
| Negative | 22/45 (0.49) | 9/25 (0.36) | 1/6 (0.17) | 6/9 (0.67) | 1/3 (0.33) | 39/84 (0.46) |
| Minor negative | 4/22 (0.18) | 1/9 (0.11) | 0/1 (0.00) | 0/6 (0.00) | 0/1 (0.00) | 5/39 (0.13) |
| Major negative | 18/22 (0.82) | 8/9 (0.91) | 1/1 (1.00) | 6/6 (1.00) | 1/1 (1.00) | 34/39 (0.87) |
| Survival | 7/18 (0.39) | 5/8 (0.63) | 1/1 (1.00) | 2/6 (0.33) | 1/1 (1.00) | 16/34 (0.47) |
| Migration | 4/18 (0.22) | 2/8 (0.25) | 0/1 (0.00) | 0/6 (0.00) | 0 (0.00) | 6/34 (0.18) |
| Reproduction | 8/18 (0.44) | 3/8 (0.38) | 0/1 (0.00) | 6/6 (1.00) | 1/1 (1.00) | 18/34 (0.53) |
Interestingly, the reporting rate of potential effects on birds carrying tracking devices seems to have changed over time. It was rather high until the early 2000s (65.0% of all studies reported the presence or absence of effects between 1981 and 2004), probably due to the novelty of using various techniques on birds. While more tracking studies were published in later years, this reporting rate dropped to 26.5% between 2005 and 2015. Of those studies in our review that did report potential effects, the fraction reporting negative effects remained stable over time around 51% (Fig. 1c). The reporting rate did not seem to differ between attachment methods (Table 1). Studies using neck collars appear to find negative effects more often than studies using other attachment methods (6 out of 9 studies found negative effects, Table 1), yet these used birds that are most easily identified and observed in the field. Most of the effects of neck collars and backpack attachments were found on reproduction, while studies using implants more often found effects on survival. Studies using subcutaneous attachment rarely found negative effects, but note the high loss rate of the tags and the low number of studies that used this method.
Towards reduction in adverse effects
Our review demonstrates that attaching tracking devices to waterfowl may lead to adverse effects on survival, migration and/or reproduction in any species. Not all tracking studies report potential effects, so it is difficult to assess why and how often such effects occur. Moreover, many studies did not include a control group in the study design, which hampers the detection of potential effects. When studies explicitly report a lack of adverse effects in their study population, the question rises whether this could be due to low sample sizes, which decreases the detection probability, or due to inadequate measuring of potential effects. Some studies with very low sample sizes did find large effects, indicating that some effects can be quite dramatic, while on the other hand, some studies with large sample sizes, thus having a high probability of finding effects, did not find any (e.g. 185 birds in study by Esler et al. [23], 228 birds in Gaidet et al. [28] and 235 birds in Pietz et al. [65]). This would indicate that tracking waterfowl can be done without affecting the birds. By comparing the methodology of different studies and their reported presence or absence of effects, we should aim at identifying which tracking devices yield negative effects in which species, how they affect the bird, and under which circumstances these effects do and do not occur. This will be an important step towards further reduction in negative effects. In order to do so, it is essential that studies (1) report in detail on the methods used for tracking, and (2) measure and report the tracking device effects on the study species.
During our literature review, we found that details concerning the attachment of tracking devices were lacking in many studies. Most often, studies were unclear in reporting and differentiating the number of birds that were equipped with (sometimes different types of) tracking devices and the numbers eventually used in the data analysis (43 out of 202 studies). Also, the sex and age of the tagged birds were often not reported (19 out of 202 studies did not report the sex), and some studies did not report the weight of the tracking device (12 out of 202 studies). In order to compare the used methods and assess which method would be the best for a certain species, studies need to report the methods used for tracking birds to a certain detail. This information should be available in publications, but also in (open-access) databases where tracking data are stored, such as the Movebank Data Repository [
85
]. We propose a standard set of metadata to be reported for any tracking study on waterfowl:
1.

Tracking device: type of positioning system (e.g. radio tracking, GPS, geolocation), type of transmitting system (e.g. satellite, GSM, bluetooth), producing company, dimensions and weight;

2.

Bird: (sub)species, sex, age (at least differentiation juvenile/adult), body mass, initial sample size of tagged birds, sample size of birds from which data was used in the analysis, whether a control group is used, marking method of control group, sample size of control group;

3.

Capture method: location, date, period of the bird's annual cycle (e.g. breeding season, moulting period), catching method, handling time and other samples acquired;

4.

Attachment method: type, material for attachment and combined weight of the attachment materials and the tracking device.
Measuring the possible adverse effects is essential when studying natural behaviour of birds using tracking devices. Even if adverse effects occur on behaviour that is not of direct interest for the study, these can still carry over in aspects of behaviour that are of interest. As an example, if birds fail to breed because they carry a tracking device, this will also have an effect on the timing of their autumn migration. When performing a tracking study, it is thus important to measure any possible adverse effects of the tracking device on the bird. Based on the studies used in this paper, as well as personal experience, we suggest that a first potential reduction in adverse effects can be managed by at least thoroughly reviewing the proposed methodology and measure them by adding a control group to the experimental design.
Reviewing earlier tracking studies on the same species is an essential first step before deploying tracking devices on a bird. Methodological studies, such as Roshier and Asmus [72] and Cumming and Ndlovu [17], can be very useful for this purpose. Studies on closely related species can be used, but subtle differences (also in environmental variables) can make species respond very differently to one attachment method. As an example, steel rings in a harness did not show wear in Barnacle Goose, but became rusty and likely broke when used in a harness in the closely related Brent Goose (A. Dokter, personal communication), as these geese spend more time in saline environments [80]. Experts in bird tracking often have experience with multiple species and can assist in evaluating what method would be suitable for which study species. To provide a first suggestion of what could be the most suitable tracking methods for waterfowl species included in our review, we have compiled an overview of how often negative effects were found for different attachment methods (Additional file 3).
When using a little known or unfamiliar attachment method or study species, it will prove very informative to perform a study in captivity before applying the tracking device on wild birds (e.g. [44, 57]). This way, the potential effects on time budgets (e.g. time feeding, preening) can be studied relatively easily, as well as shedding of the tracking device or the possibility that birds become entangled by the attachment method.
When designing a tracking study on wild birds, adding a control group which is treated in the same way as the tagged group but which lacks the tracking device makes it possible to measure differences in behaviour and survival (e.g. [68, 75]). Marking birds in a control group with lightweight visual marks (metal and colour rings) is usually considered to be of little influence on the bird [13], while it enables later recognition in the field. Simple neck collars can probably be used for long-necked waterfowl without long-term effects, but have been found to affect reproduction and survival in some species [15, 51, 68, 75], and should thus be used as a control with caution. A control group should be treated in the same way as the tagged group in as many aspects as possible, including the method of capture, other samples taken (e.g. blood samples), attachment of visual marks (metal and colour rings) and potentially also handling time (although the attachment of the tracking device may increase handling time substantially). Adverse effects can then be measured by observing both the tagged and the control group in the field. Not all possible adverse effects can be measured easily, as it is often difficult to track birds in the control group equally well as birds with tracking devices. This is particularly true for measuring effects on migration. For larger birds, it is sometimes possible to equip a control group with lightweight (< 1 g) geolocators on the colour rings, which can be used to measure migration variables such as moment of departure and arrival, and migration speed ([22], Lameris et al. unpublished). Yet, ring resightings and recoveries can also give useful estimates for comparison of some migration variables [39], such as the moment of arrival [8]. Observing birds after release can reveal differences in behaviour and short-term survival between the tagged group and the control group. One-year return rates (e.g. to the breeding colony) can give an indication of differences in annual survival, for which it is important to use the same observation method (i.e. visual observation) for both tagged and control groups. This will also enable estimation of the rate of transmitter failure, which helps to distinguish between signal loss and bird mortality. Effects on reproduction can be measured in multiple ways, e.g. by quantifying nesting propensity, nest initiation date, clutch size and hatching success. When possible, recapture of birds of the tagged group and the control group can give insights in physical effects, including body condition and physical damage as a result of the tracking device attachment [23]. Finally, it should be evaluated and discussed by the authors of original tracking studies to which degree the potential tag effects are indeed negative within the context of the species' life history and ecology.
Conclusions
The primary aim of this study was to identify how attaching tracking devices on waterfowl may affect their survival, behaviour and reproduction, and explore how measuring and reporting of negative effects may provide directions towards reduction in these effects in future studies. Adverse effects on bird behaviour have been reported occasionally for all methods of attaching tracking devices, and there is not a single best method for all species. However, the occurrence and type of negative effects clearly differ for species and attachment methods, and based on earlier studies, it is often possible to determine a suitable method for single species (Additional file 3). If any negative effects are still to be expected, these should be outweighed by the scientific benefits of the study, as is usually legally mandatory and should be assessed by an animal welfare committee. In recent years, very few studies on waterfowl reported potential effects of tracking devices, while the fraction of studies in which negative effects were found has not decreased. This is a worrisome trend which is also reported for studies on seabirds [82]. When studying birds using tracking devices, it remains essential to determine whether their behaviour or fitness are affected, as this can greatly influence study results. We stress the importance of measuring effects of tracking device attachment on the behaviour and survival of birds to make sure that data on natural behaviour are collected. A promising way to reach broadly supported "best practice" methods for tracking studies is to combine expert knowledge of waterfowl researchers with comparative observations in the laboratory and in the field. We hope that the use of a standardized format for reporting details of tracking methods will improve the exchange of information, and we encourage researchers to measure effects of tracking devices on fitness and behaviour by adding control groups to their studies. These data should be reported in publications, but also in (open-access) databases where tracking data are stored for future use. This will lead to better science and pave the way towards a reduction in adverse effects of tracking devices on waterfowl in the future.
Declarations
Authors' contributions
TL and EK collected and analysed the data from the literature, reviewed the literature on tag effects and wrote the manuscript together. Both authors read and approved the final manuscript.
Competing interests
The authors declare that they have no competing interests.
Acknowledgements
We thank Bart Nolet, Arie van Noordwijk, Rascha Nuijten, Andrea Kölzsch and three anonymous reviewers for their comments on an earlier version of this manuscript.
Availability of data and material
The datasets used and/or analysed during the current study are available from the corresponding author on reasonable request.
Consent for publication
Not applicable.
Ethics approval and consent to participate
Not applicable.
Funding
TL was funded by the Nederlandse Organisatie voor Wetenschappelijk Onderzoek, Grant NPP 866.13.010.
Publisher's Note
Springer Nature remains neutral with regard to jurisdictional claims in published maps and institutional affiliations.
Open AccessThis article is distributed under the terms of the Creative Commons Attribution 4.0 International License (http://creativecommons.org/licenses/by/4.0/), which permits unrestricted use, distribution, and reproduction in any medium, provided you give appropriate credit to the original author(s) and the source, provide a link to the Creative Commons license, and indicate if changes were made. The Creative Commons Public Domain Dedication waiver (http://creativecommons.org/publicdomain/zero/1.0/) applies to the data made available in this article, unless otherwise stated.
Authors' Affiliations
(1)
Department of Animal Ecology, Netherlands Institute of Ecology (NIOO), Wageningen, The Netherlands
(2)
Theoretical and Computational Ecology, Institute for Biodiversity and Ecosystem Dynamics, University of Amsterdam, Amsterdam, The Netherlands
(3)
Dutch Centre for Avian Migration and Demography, Netherlands Institute of Ecology (NIOO), Wageningen, The Netherlands
(4)
Ecology and Biodiversity Group, Institute of Environmental Biology, Utrecht University, Utrecht, The Netherlands