The generalized data management and collection protocol for Conductivity-Temperature-Depth Satellite Relay Data Loggers
Animal Biotelemetry
2015
3:21
Received: 12 January 2015
Accepted: 17 June 2015
Published: 29 July 2015
Abstract
The software routines for data sampling and processing that are implemented on-board telemetry devices (tags) called Conductivity-Temperature-Depth Satellite Relay Data Loggers (CTD-SRDLs) enable the simultaneous collection of biological and in-situ environmental data by animal-platforms over periods of weeks to months, despite severe energy and bandwidth limitations imposed by their relatively small size. This extended operational lifetime is made possible by the use of software protocols on-board the tags that manage sensors, data collection, storage, compression and transmission to ensure that the most useful data are sent at appropriate resolution while minimizing redundancy. While tag software is tailored to the particular species under study and the questions being addressed with a given field deployment, the philosophy behind Sea Mammal Research Unit Instrumentation Group (SMRU-IG) software protocols is to adopt a general set of principles to achieve the best results within the energy and bandwidth constraints. Here, we discuss these and review the general protocol that is used to simultaneously collect information on geographical movements, diving behaviour and in-situ oceanographic information from marine mammals.
Keywords
CTD-SRDL
SMRU-IG
Software protocol
CLS-Argos
Marine mammals
Diving
Oceanography
Constraints
Background
The development and manufacture of animal telemetry devices that exploit the Argos satellite data collection and transmission system (CLS-Argos,
http://www.argos-system.org/
) began at the Sea Mammal Research Unit (SMRU) in the late 1980s [
1
]. Research and development are on-going by a dedicated group within SMRU (SMRU Instrumentation Group; SMRU-IG) using a package of sensors produced by Valeport Ltd (UK), but a stable version of these tags that has been routinely deployed since 2003 on wide-ranging polar marine mammals, is the Conductivity-Temperature-Depth Satellite Data Relay Logger, or CTD-SRDL (Fig.
1
).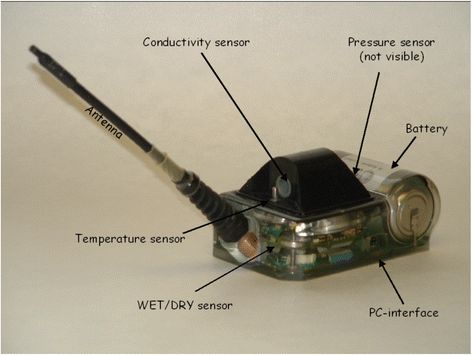 A precursor of the CTD-SRDL was deployed on beluga whales in 2001 to study the hydrographic conditions in an Arctic fjord [2], in Svalbard, and on Antarctic fur seals at Bird Island, South Georgia [3]. Some of the first studies to use CTD-SRDLs involved the instrumentation of southern elephant seals from South Georgia and Kerguelen [4, 5] illustrating the usefulness of the devices for jointly studying mobile top predator behaviour and ecology and the ocean environment they inhabit [6]. Data from CTD-SRDLs are used not only to learn about the instrumented animals themselves [4, 7, 8], but also to update bathymetric information in poorly surveyed areas [9], collect extensive and sometimes otherwise inaccessible oceanographic data [10–15], and have become substantial contributors to the global ocean observing system [16–19].
The purpose of this instrument and its data collection protocol is to remotely and autonomously collect and transmit simultaneous hydrographic and behavioural data from air-breathing marine vertebrates. Hence, the protocol is designed for the collection of time-series data over long periods, while being constrained by the physical size of the device and bandwidth for data transfer; both those imposed by the limit time animals are at the surface and by CLS-Argos technology. These constraints necessitate the use of efficient algorithms to produce small parcels of information that have a chance of being received by the ground station once they are transmitted, such as data summaries and abstracted data [20–22]. Ultimately, the objective is to achieve the most effective representation of animal behaviour and the in-situ environment, given the constraints on data processing, data storage, and data transmission. A thorough appreciation of the way they are collected and the algorithms by which they are compressed [20, 23] is critical for the meaningful scientific interpretation of the data that are finally received.
CTD-SRDLs are particularly relevant for studies in which long-term datasets are required, and in cases where archival tags can only infrequently be recovered. These instruments have been deployed on a wide range of animals and have been particularly successful in providing oceanographic information from under-sampled locations, such as remote, ice-covered or near-shore regions in polar oceans [
19
]. The oceanographic data produced by these tags is widely used and are increasingly being made freely available [
24
]. For example, there is now a web portal [
25
] for accessing much of the data collected by these tags in a consistent format and standardized accuracy [
10
]. Here, we document the general structure of the protocol for data collection by CTD-SRDLs and, where useful, give example parameter values. We present a condensed overview of the types of data that are collected, in Table
1
. We present schematic representations of the relationships between the different behavioural states (Fig.
3
), the protocol for collection of CTD profiles (Fig.
4
), and an overview of the possible outcomes as one parcel of information passes through the algorithm (Fig.
5
).
Table 1
Data collection and transmission summaries (CTD_GEN_07B)
Note: All values that can be changed to accommodate individual experimental needs are enclosed in [square brackets].
Behavioural state definitions
Enter "hauled out" if dry for [10] min, exit if wet for [40] sec.
Enter "diving" if wet and depth is greater than [6] m for [8] sec, exit if depth is less than [6] m for any length of time ([0] sec), or dry at any time.
"At the surface" is the complement of "hauled out" and "diving". If this state persists, and there is no dive for [9] min, it is called "cruising" and is treated as a separate state. Entry and exit information is stored and transmitted.
Data types
i. Dive record: [30 k] bytes are made available for dives, which are stored in groups of [3]. If we assume average dive duration of [10] min this results in a [6.25] day buffer with capacity for [300] dives.
ii. Haulout and cruise record: [480] bytes each are available for haulouts and cruises. Since only the entry and exit times are stored for haulouts and cruises this means that [30] haulouts and [30] cruises can be stored in the buffer.
iii. Summary record: [680] bytes are made available for [6] hour summaries, which are stored in groups of [3]. This results in a [7.5] day buffer.
iv. CTD or temperature cast record: [5 000] bytes are available for CTD casts which results in a [7.5] day buffer.
Conclusions
The CTD-SRDL is an animal telemetry device whose hardware and software have been developed over the course of more than two decades. Its soft- and hardware systems are purpose-built for the remote collection of data on the biology of marine animals and their environment, and this is the first time they have been holistically reviewed. The evolution of the instrument is on-going, driven both by biological and oceanographic questions. The field of animal telemetry has expanded dramatically since the first prototype predecessor of a CTD-SRDL was deployed and transmission technologies have diversified substantially. Nonetheless, the CTD-SRDL is still the most commonly used instrument for collecting information about widely ranging species in high latitude areas. Almost 500 000 CTD and 5 million dive profiles respectively, have been collected to date by CTD-SRDLs since 2003 (SMRU-IG unpublished data, June 2015). These CTD profiles are not only numerous but they are also of global importance. They have contributed substantially to the World Ocean Database [29] by providing hydrographic information from areas never directly surveyed [16, 24] and now comprise 70 % of all oceanographic profiles ever collected south of 60 °S, with increasing contribution in the Arctic [19]. At the poles, the CLS-Argos system continues to be the most effective satellite transmission platform for animal data, particularly when a) the animals do not spend long enough periods at the surface or hauled out to allow the use of the Iridium communications system, or b) when they do not haul out in areas that allow the use of other transmission technologies such as GSM. The species that have been instrumented with CTD-SRDLs most often include southern and northern elephant seals (M. leonina and M. angustirostris), Weddell seals (Leptonychotes weddellii), grey seals (Halichoerus grypus), hooded seals (Cystophora cristata) and several species of sea turtle.
The outlook on future development of CTD-SRDLs, similarly to other animal telemetry devices, includes reducing the size and increasing the battery life of the device. Neither of these is a trivial challenge. Reduction in size is severely limited by the size of the conductivity and temperature sensors, while making the tag more energy efficient depends on how much energy the sensors are using as well as the overall energy availability provided by the battery. The addition of novel sensors, such as oxygen and pH, which would deliver highly desirable and previously unobserved datasets, is most often at odds with reducing the size and energy requirements of the device. These sorts of developments are constantly being researched but involve implicit challenges imposed by the existing framework of limited memory and energy as well as stringent bandwidth constraints.
The trade-off between precision and bias, highlighted above, is equally relevant here as it is in other applications of optimisation. Maximising timing and frequency of data transmission is important, but not if the most informative bits of data (i.e., precision) are lost in the process. The key objective for this protocol is to collect the most relevant data while dealing with the sometimes strict constraints of technology and animal behaviour. The dynamic modification of the transmission rates on-board telemetry devices, either due to extrinsic or intrinsic factors affecting transmission could result in bias. The use of memory buffers, in the case of CTD-SRDLs, is intended to ameliorate this but may, as a consequence, mask the degree of intensity of behaviours, which is in turn important information regarding the animal platform. Due to multifaceted objectives and trade-offs, the usefulness of any device for the remote collection of animal observations will only be as good as the overlap between the capabilities of the device, the specific behaviour of the animals and the scientific questions sought to be answered using the resulting data. We hope that this review will promote appropriate usage of both historical CTD-SRDL data and data that continue to be collected, as well as contribute to the on-going development of animal telemetry devices.
Abbreviations
BSM:

Broken-stick model
CTD-SRDL:

Conductivity-Temperature-Depth Satellite Relay Data Logger
CTD:

Conductivity-Temperature-Depth
SMRU-IG:

Sea Mammal Research Unit Instrumentation Group
SMRU:

Sea Mammal Research Unit
XBT:

Expendable bathythermograph
Declarations
Acknowledgments
The authors wish to thank Lars Boehme, Steve McPhail, Nora Hanson and Debbie Russell for valuable contributions to early versions of the manuscript.
Authors' Affiliations
(1)
Centre for Statistics in Ecology, Environment and Conservation, Department of Statistical Sciences, University of Cape Town, Cape Town, South Africa
(2)
Sea Mammal Research Unit, Scottish Oceans Institute, University of St Andrews, St Andrews, UK
(3)
Institute of Biodiversity, Animal Health and Comparative Medicine, Graham Kerr Building University of Glasgow, Glasgow, UK
Copyright
© Photopoulou et al. 2015
This is an Open Access article distributed under the terms of the Creative Commons Attribution License (http://creativecommons.org/licenses/by/4.0), which permits unrestricted use, distribution, and reproduction in any medium, provided the original work is properly credited. The Creative Commons Public Domain Dedication waiver (http://creativecommons.org/publicdomain/zero/1.0/) applies to the data made available in this article, unless otherwise stated.