Performance of an ultrasonic telemetry positioning system under varied environmental conditions
Animal Biotelemetry
2014
2:15
Received: 14 June 2014
Accepted: 1 September 2014
Published: 1 October 2014
Abstract
Background
Advances in ultrasonic telemetry, including the ability to accurately position a transmitter within an array of hydrophone receivers, have led to increased opportunities to investigate a broad spectrum of ecological questions in aquatic systems. The quality and efficiency of positioning a transmitter relies upon factors controlled by the researcher (for example, geometry of the receiver array) as well as environmental conditions (for example, water quality or environmental noise). While the physics of sound wave propagation are well understood, the high amount of environmental variability in and among aquatic habitats makes it difficult to predict exactly how any given ultrasonic signal will behave. To evaluate variability in system performance across different receiver arrays in diverse environments we present positional records for fixed-location tags recorded with a popular positioning array, the VEMCO Positioning System (VPS). Using these records we evaluate the relationships between system performance, measured as both horizontal positioning error and positioning efficiency, and user-controlled and environmental variables. We used generalized linear mixed models to assess performance at a coastal site, a site in a freshwater tidal estuary, and a riverine site.
Results
The positioning errors were similar across sites, with median errors ranging from 1.6 to 3.3 m. In contrast, there was large variation in positioning efficiency across sites, with poor positioning efficiency in the coastal habitat (7%), possibly due to high levels of bioacoustic noise, and moderate efficiency in the river (21%) and estuary habitats (27%). Our statistical models indicate that array geometry was consistently the most important predictor of positioning performance. Environmental noise and water movement also emerged as additional predictors of performance at several sites.
Conclusions
The results provide insight into VPS performance capabilities and emphasize the importance of testing array geometries. Additionally, water quality parameters should be monitored and receiver mooring designs should be carefully considered before embarking upon a telemetry study. We hope this work will guide future researchers in creating more effective designs for positioning arrays, and facilitate the collection of high quality information about movement and behavior patterns of aquatic organisms.
Keywords
Ultrasonic telemetry
VEMCO positioning system (VPS)
Horizontal positioning error
Positioning efficiency
Background
Animal movement is fundamental to much of ecology and animal biology [1]. Organisms must move to find food, avoid predators, encounter mates, and respond to the environment. Thus knowing the fine-scale movement of targeted animals is an important aspect of understanding their habitat use and ecology. Ultrasonic telemetry allows for the monitoring of movement in aquatic environments, which can otherwise be difficult to observe [2, 3]. Approaches can be varied, ranging from simple detections of animal presence at stationary receivers (for example, [4–6]) to detailed recording of animal positions and three-dimensional acceleration [7–9]. Telemetry systems can collect fine-scale positions of transmitters when receivers are deployed in an array, and the differences in the arrival time of a single transmission at multiple receivers are used to calculate its position [10–14]. Recent development of precision timing mechanisms and autonomous receivers with long battery lives have allowed for the deployment of flexible, long-term positioning arrays for research in varied aquatic ecosystems [15, 16].
The quality and efficiency of positioning by telemetry systems relies upon variables controlled by the researcher as well as upon environmental conditions. The conceptual model in Figure
1
summarizes how user-controlled and environmental variables may influence sound propagation and the performance of a positioning system. User-controlled variables include, but are not limited to, the geometry of the receiver array, the estimated speed of sound at the study site, and the receiver mooring design. The geometry of the receivers and transmitters has been shown to affect system performance [
12
,
16
–
19
], likely due to the spatial variability in mathematical certainty inherent in triangulation equations [
20
,
21
]. Inaccurate estimates of the speed of sound (which varies with temperature and conductivity) and movement or tilt of receivers can also result in increased positioning error. Additionally, environmental variables can directly impact the propagation of a sound wave or mask the signal with non-target noise. As waves spread from a point source acoustic energy is reduced, and the wave can be reflected, refracted, scattered, and/or absorbed by elements in the environment [
20
]. Loss or alteration of the sound wave can result in an incomplete or erroneous signal arriving at the receiver. In addition, high levels of environmental noise due to human activity or natural processes may reduce the ability of receivers to detect and extract the information in an ultrasonic signal [
3
,
20
–
22
]. Given the inherent variability of real-world environments, it is difficult to predict exactly how each sound wave will behave and thus how a positioning system will perform at any given research site. However, by examining the performance of several positioning systems with varying array geometries and environmental factors we can better understand which conditions are most likely to pose challenges in future studies.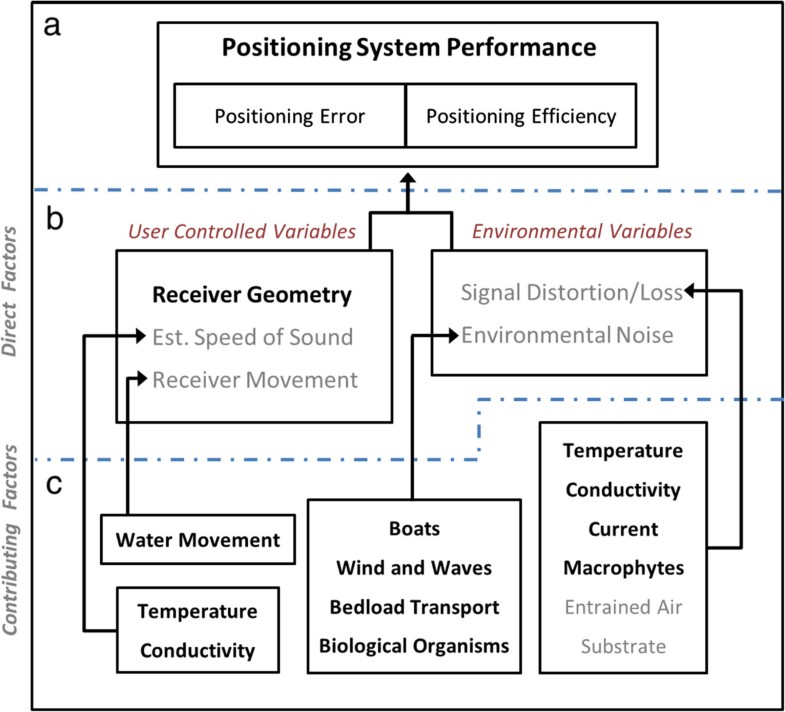 In order to evaluate the variability in system performance across diverse study sites, we assessed transmitter locations recorded with an increasingly popular positioning array, the VEMCO Positioning System (hereafter VPS; VEMCO Division of AMIRIX Systems; Halifax, Nova Scotia, Canada), which were collected in pursuit of three separate research objectives in three different environments [
23
], Steel et al. unpublished observations, Thomas et al. unpublished observations. These environments encompass a broad spectrum of aquatic habitats where ultrasonic telemetry is frequently utilized: oceans, estuaries, and rivers. The oceanic site was located on the coastal shelf off San Diego, California within the Point Loma kelp forest (32.691°, -117.263°), and was designed to monitor movement of pink abalone (
Haliotis corrugata
) away from an artificial spawning aggregation site. The estuarine site was in a shallow tidal lagoon known as Mildred Island (37.975°, -121.530°) in the freshwater portion of the San Francisco Estuary, near the town of Stockton, California. It was intended to document the habitat use of largemouth bass (
Micropterus salmoides
) in areas of high submerged aquatic vegetation. The riverine site was in the Sacramento River at the confluence with Antelope Creek (40.082°, -122.116°), south of the town of Red Bluff, California (Figure
2
), and was deployed to record the habitat use of spawning green sturgeon (
Acipenser medirostris
). For more information about the study sites and array deployment, refer to the methods. The designs of the positioning arrays varied by site, but all included transmitters in fixed locations that were used to assess both the horizontal positioning error (quantified as the Euclidian distance between the GPS location of a fixed tag and the VPS-calculated positions) and the efficiency of positioning (quantified as the proportion of the expected transmissions that were recorded as positions). To achieve our primary objective of assessing VPS performance, we modeled the relative importance of user-controlled and environmental variables (Table
1
) on positioning error and efficiency within these three disparate aquatic environments.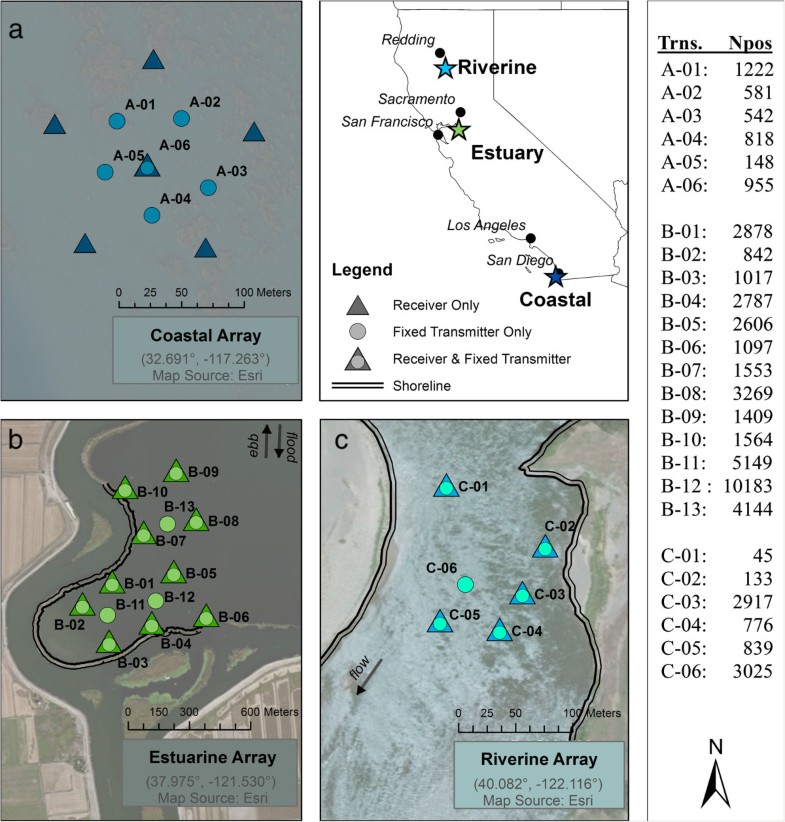 Table 1
Predictor variables considered in GLMMs, by site
| Coastal | Estuarine | Riverine |
| --- | --- | --- |
| Viewing angle (°) | Viewing angle (°) | Viewing angle (°) |
| Diel period | Diel period | Diel period |
| Wave height (m) | Conductivity (μScm) | River stage (ft) |
| Dominant wave period (s) | Water temperature (°C) | Water temperature (°C) |
| Average wave period (s) | Discharge (cfs) | Turbidity (ntu) |
| Water temperature (°C) | Direction of flowa | |
| Mean wave directiona (°) | Macrophyte index | |
Discussion
Among the three arrays compared here, the median error in positions ranged from 1.6 to 3.3 m. These errors were calculated based on all recorded data, without any position filtering as is frequently done before fine-scale analysis of animal movements [19, 25]. This error range is smaller than the unfiltered mean error of 5 m (SD = 7.8 m) reported by Roy et al. [19] for a VPS deployed in a large hydropower reservoir. It is similar to the unfiltered mean error estimate of 2.6 m (SD = 2.3 m) reported by Espinoza et al. [16] for an estuary site, and larger than the filtered mean error range of 1.0 to 1.8 m reported by Andrews et al. [15] from a VPS placed in a protected ocean environment.
The positioning efficiencies were calculated at 12-h intervals for each transmitter across sites (see methods for more information). The median site-level values ranged from 0.0 to 0.28 positions recorded per transmission (mean range was 0.07 to 0.26) and when calculated for individual transmitters the medians showed even greater variation, ranging from 0.0 to 0.69 positions recorded per transmission. The site-level values for positioning efficiency were lower than other positioning efficiencies from VPS arrays reported in the literature. Roy et al. [
19
] found a mean efficiency of 0.40 after filtering positions with high estimated errors out of the dataset, and Espinoza et al. [
16
] reported an efficiency range of 0.28 to 0.53 positions recorded per transmission. Simpfendorfer et al. [
26
] examined the detection efficiency at single Vemco receivers, and reported a broad range of efficiency from 0.01 to 0.77 detections per transmission. While the overall positioning efficiencies reported here were at the lower limits of those reported in similar studies, they are reasonable considering the challenges of signal propagation at our study sites. These challenges at the coastal site included high noise interference from biological sources and stands of macroalgae, at the estuarine site they included patchy beds of freshwater macrophytes, and at the riverine site the greatest impediments were the complex hydrodynamics, entrained air, and noise from bedload movement. In addition to lost transmissions and those masked by environmental noise, there may have been additional loss of efficiency due to the collisions of concurrent transmitter signals. This can occur within a VPS array when there are high numbers of active transmitters. When we examined the potential for collisions at these sites we did not see a clear relationship between positioning efficiency and the number of transmitters and corresponding pulse rates (Table
3
).
Table 3
Transmitters present in array during study period
Site

Transmitters (n)

Transmitter location

Transmitter type

Fixed transmitter delay (s)

Estimated total transmissions emitted/day

Positioning efficiency of fixed transmitters

Coastal

6

Fixed

V9-2H

450-500

8,986

0.02

46

Animal

V9-2H

450-500

Estuarine

10

Fixed

V13-1 L

600-800

31,114

0.28

3

Fixed

V13-1 L

170-310

20

Animal

V13-1 L

30-90

Riverine

5

Fixed

V13-1H

600-800

27,906

0.00

1

Fixed

V16-1 L

600-800

22

Animal

variable

Variable
GLMM results indicated that the geometry of receivers in a positioning array was the most consistent factor affecting performance. For all analyses addressing HPEm, we saw that when viewing angles became more acute (that is, tags were farther from the internal area of the array) the error increased, which is in agreement with previous work on the spatial distributions of error in a positioning array [12, 18, 19]. However, when examining the positioning efficiency, two of the three models suggested that more acute angles resulted in increased efficiency. This result is surprising, and may be due to greater concentrations of transmitter signals closer to the center of the arrays, resulting in more transmitter collisions and reduced positioning efficiency as the viewing angle increases. Alternatively, the pattern may be spurious, resulting from unmeasured attributes that varied by specific transmitter location. These attributes could include elements such as localized vegetation, hydrodynamics, or softer substrates that may increase signal absorption. Because these factors vary in space but are are unrelated to the array geometry, they could lead to confounding results.
Five of the six final models included a metric for water movement, suggesting this is a common feature affecting positioning performance. Depending upon the habitat type, water movement was measured as wave behavior, tidal influence and flow, or river stage, all of which have the ability to move moored receivers and introduce error into recorded transmitter positions. This source of error is likely to be most extreme for non-rigid mooring systems. All the receivers tested here were attached to stainless steel cable, anchored using bottom weights and floated into a vertical position with small buoys. This mooring design allowed the receivers to move slightly within the water column. Among the three arrays tested, this movement was likely the most pronounced in the riverine array where the model predicted that a 0.5 m (1.7 ft) rise in stage, and accompanying increase in water velocity, should result in an additional 1.8 m of positioning error. Therefore careful attention should be paid to mooring designs in research areas that are likely to have high or variable currents. While the error due to receiver movement may be reduced through the use of more rigid mount designs, without a self-righting capability these designs pose an additional risk of the mounts becoming unintentionally fixed in a horizontal position. In addition to contributing to receiver movement, extremely strong flows such as those commonly encountered in riverine systems may also create an 'acoustic wall' along the region of fastest water movement. A subjective assessment of the transmitter detections in the riverine system indicated that very few detections were recorded across the thalweg, and this may have contributed to the low positioning efficiency.
The statistical models also suggest an interesting relationship between positioning performance and water temperature. In the models of HPEm, the coastal and estuarine sites show increased positioning error as water temperatures increased. We believe this is not due to effects of warmer water but rather be due to the use of mean water temperature estimates in the postprocessing positioning equations. User-defined parameters of temperature and salinity at the study site are used to estimate the speed of sound in the triangulation equations, and larger errors in these estimates lead to larger positioning errors. When we examined the difference between the actual water temperatures and the average temperatures assumed in the postprocessing positioning equations, we did in fact find larger differences at higher water temperatures, which may explain the results from the statistical models. Likewise, the model for HPEm at the estuarine site also included a positive relationship between positioning error and conductivity. A comparison of the measured variation in salinity and the average values used in the positioning equations suggest the same mechanism may have led to the positive conductivity relationship indicated in the model. For long study periods in habitats with variable temperature and/or salinity, system performance could be improved by estimating the speed of sound from water quality parameters measured more frequently than those used in these case studies.
At all three sites there was reasonable evidence for declining performance due to environmental noise. In the coastal array we saw decreased positioning efficiency at night, which has been noted in other marine applications of ultrasonic telemetry as well [4, 21]. Nocturnal organisms such as snapping shrimp can create sharp, loud noises that are difficult to discriminate from transmitter pulses [22] and can raise the variable noise threshold of receivers, making the transmission more difficult to detect (D. Webber, personal communication). The diel period was also an important factor at the estuarine array, but it showed the opposite relationship. The study site is a popular area for recreational fishing and boating, and it is likely that the increased motorized boating during daylight hours contributes high levels of background noise. It is also possible that sound waves from recreational sonar units (fish-finders) impede system performance during daytime periods (D. Webber, personal communication). Finally, at the riverine site we saw a strong relationship between river stage and both performance metrics. As discussed above, we expect the hydrodynamics at the site contributed to positioning errors through receiver movement. But we also noted that higher flows were related to reduced positioning efficiency, possibly because flow increases mobilized additional bedload. The collision of gravels and cobbles along the substrate can be clearly heard via mobile receivers, and it is plausible that high bedload movement can cause enough ambient noise to interfere with the reception of ultrasonic transmitters at greater discharges. In addition, turbulent flow patterns can entrain air into the water column, which can absorb an ultrasonic transmission and lead to reduced positioning efficiency [3].
Interestingly, final models for the estuarine array did not include the index for macrophytes, even though we anticipated that aquatic vegetation would absorb a substantial amount of any ultrasonic transmission passing through an existing patch. While a log-likelihood ratio test and AIC values indicated that the model without the macrophyte index was more parsimonious, the removal of this index during model selection only reduced the AIC value by 1.5, and did not cause any noticeable changes in parameter estimates for other variables. When we examined the model containing aquatic macrophytes both as a fixed effect and as a random slope by transmitter, we noted there were two transmitters that showed a strongly negative relationship with increasing macrophyte index (Figure
10
). These two transmitters (B-02 and B-03; red and blue in Figure
10
) were moored in substantially thicker beds of macrophytes during the peak growing season. This supports a hypothesis that aquatic vegetation may influence system performance at a smaller scale than the metrics used in this analysis.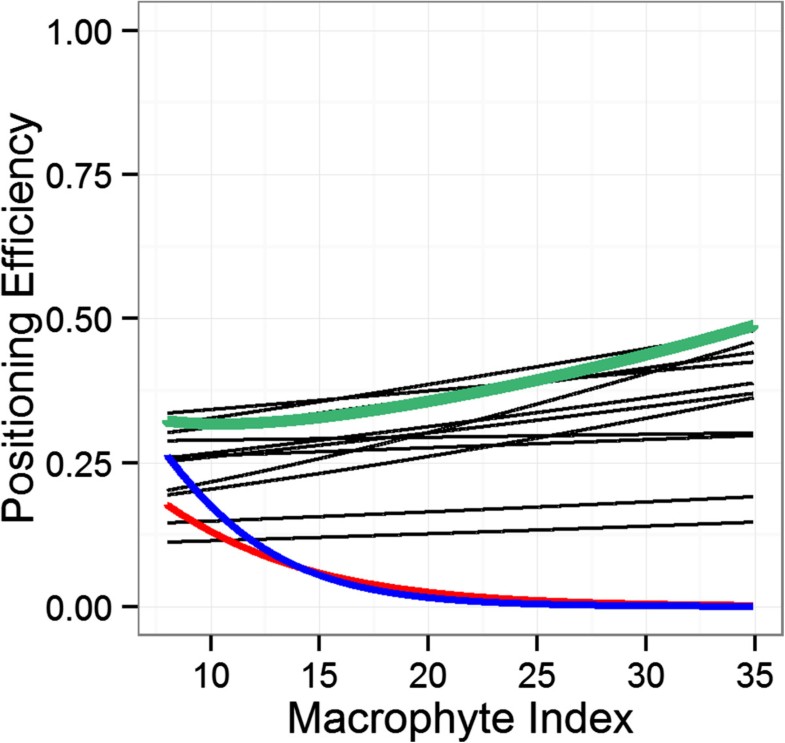 Conclusions
Based on the results of this analysis, it is clear that researchers planning to use an ultrasonic positioning system should carefully evaluate the appropriateness of such a system for each research question and environment [4]. Time should be invested in testing various receiver geometries, as this consistently appears as the most important predictor of performance. Careful consideration of methods to reduce receiver movement may also increase system performance. When research will be conducted at a site with variable temperature and salinity, water quality parameters should be monitored and utilized in postprocessing to reduce errors in the calculated positions. Finally, researchers should be prepared for moderate to high rates of data loss due to environmental noise. Even for the estuarine array, which performed best among those evaluated, on average only 28% of the expected transmitter pulses were converted into positions; the values for the coastal and riverine sites were even lower. Finally, while the environmental conditions examined here are common to many aquatic systems, this analysis did not include environments with thermoclines, nor environments affected by surface ice. It is important to note that each individual study area will present its own unique set of variables that researchers should consider on a case-by-case basis.
The ability to observe animal movement and habitat use in aquatic ecosystems can provide critical insight into basic ecological questions. Innovations in ultrasonic positioning systems have expanded our ability to conduct important research. Through sharing information on the performance abilities of these systems under real environmental challenges, we hope that future researchers will be able to design more effective positioning arrays and collect high quality information about the movement and behavior patterns of focal species.
Declarations
Acknowledgements
The authors would like to thank the numerous people who provided vital field support, including Michael Thomas, Phillip Sandstrom, Gabriel Singer, Dennis Cocherell, Eric Chapman, Ryan Battleson, and Cynthia Catton. Many thanks to Dale Webber, Kevin A. Hovel, John L. Butler, Steven G. Morgan, and Megan Wyman who provided intellectual and/or financial support. Thanks also to two anonymous referees who provided constructive feedback. The coastal ocean study was funded by the NOAA Species of Concern Program and the Joint Doctoral Program in Ecology at San Diego State University and University of California, Davis. The estuarine study was funded by the Interagency Ecological Program, the University of California, Davis, and the National Science Foundation under Grant No. 0841297. The riverine study was funded by the US Bureau of Reclamation.
Authors' Affiliations
(1)
Department of Wildlife, Fish, and Conservation Biology, University of California, Davis, Davis, USA
(2)
California Department of Fish and Wildlife, Marine Region, Santa Barbara, USA
(3)
Turtle Island Restoration Network, Olema, USA
Copyright
© Steel et al.; licensee BioMed Central Ltd. 2014
This article is published under license to BioMed Central Ltd. This is an Open Access article distributed under the terms of the Creative Commons Attribution License (http://creativecommons.org/licenses/by/4.0), which permits unrestricted use, distribution, and reproduction in any medium, provided the original work is properly credited. The Creative Commons Public Domain Dedication waiver (http://creativecommons.org/publicdomain/zero/1.0/) applies to the data made available in this article, unless otherwise stated.